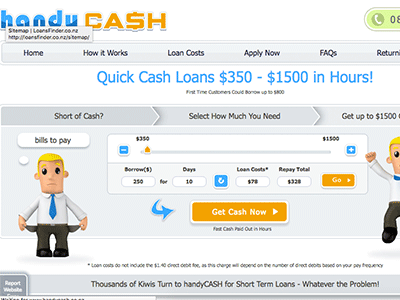 Author Handy CASH. Screenshot of Handy CASH website.


[Accessed April 17, 2018]
Handy Cash - A responsible credit provider
HandyCASH has one major goal in sight and that's to achieve the very best customer satisfaction. We do sincerely believe that this is the only way to success.
And that's the reason we offer a wide range of benefits in order for our Kiwis to get what they want when they want!
If you need a quick small, short-term loan then you're at the right place we're here to help.
Fill in our online application form and submit it's as easy as that.
Our aim is to deliver the same day service to all customers who have applied; we don't want you to keep you in the dark so our service is a speedy one.
Our office hours have also been extended for this purpose so that we are able to assist individuals who have a cash emergency.
Superior customer service
We are proud of the fact that our customer care service is top-notch, providing friendly and efficient services to all our Kiwi customers.
Our emphasis is on customer service, making sure that you are happy at all times and that our bad credit loans will exceed your expectations.
Note that Handy CASH is a brand of First Stop Pty (Ltd) an establishment with a reputable reputation with a senior management team who has more than 50 years' experience in micro-financing as well as the banking industry.
Handy CASH Services
Our Quick loans have been designed to assist you in gaining full control where spending is concerned.
It's always best to only borrow what you need and making sure that you have the affordability of repayments. Our bad credit loans are particularly helpful when you need to cover unexpected emergencies and you don't have the cash.
We don't always provide for an emergency when budgeting so this is where HandyCASH comes in. We are able to help in the best possible way.
We support responsible lending
HandyCASH is a responsible lender so we won't allow your loan to get out of control due to loaning beyond your affordability since there are extra charges of interest.
Our Specialist personal loan consultants will work with you ensuring that you get the best possible solution; we take your circumstances into consideration as well as your income and expenses.
We offer quick cash loans in New Zealand
We offer a range of online loan options for every need, we help you manage your funds and assist in finding the best solution for you to settle your loan as quickly as possible.
This will give you the control you need so there is no chance of you getting in over your head with our quick cash loans; we are not here to help you further into debt where you find that you're not keeping head above water.
We lend only what we think you're able to afford. Handy CASH is your best option of getting the best choices for your needs.
Handy CASH – Bad credit loan
Loan Type

Loans bad credit
Benefits of Handy CASH
INSTANT Loans
Bad Credit Loans
SHORT-TERMs Loans
PAYDAY Loans
Cash Loan
Bad credit loan calculator
HandyCash - Choose a loan to suit your lifestyle
An unforeseen bill no problem - need a vacation no problem -we can help!
Not all of us are able to budget for unforeseen circumstances for things such as a medical bill, a burst geyser or perhaps a broken down vehicle, these certainly are things that are beyond our control sometimes we overlook a bill due for payment and then panic when it's time to pay – we know the feeling of being discouraged and that's one of the many reasons we're here to help.
These are issues some New Zealander's are facing on a daily basis, so thus it's natural that a bad credit loan would be the answer and could possibly make things a bit easier and a little less stress-free.
Are you perhaps in bad need of a vacation? HandyCASH believes that you should take that well-deserved break, perhaps you have the cash to pay for accommodation and so on… but what about spending money? Apply for a quick cash loan and take your family on that holiday you've been thinking of for ages. We're here to make your dream a reality!
You can use your instant loan for almost anything. Apply for your quick cash loan and let's see how we can be of assistance to you.
Reasons you should choose HandyCASH
Our online loan application is straightforward and simple and only takes a few minutes to fill out. Our approach is to keep our Kiwis happy with a friendly and professional manner. Once your application has been received and approved, we provide a quick turnaround time and you could have the funds in your account the same day or at the latest, the next day depending on what time we received your application.
HandyCASH would love to hear from you, so don't delay, apply today, or speak to one of our professional consultants who are always willing to listen, advise and guide you in the right direction. Remember, you don't need to feel alone or stressed out, we know what you're going through and would like to be of assistance to you
Customer Reviews & Testimonials
"
Handy is a responsible lender; when I went to speak to them about borrowing money they discussed the most affordable option for my financial circumstances. They refuse to lend to someone who will...
Danny J
— Picton —
Handy has one thing in their sights and that's customer satisfaction. I have never dealt with a friendlier staff that are as dedicated to resolving your financial issues as what I experienced at ...
Austin M
— Porirua —
Thanks for the wonderful loan Handy Cash! You really sorted my family and me out when we found ourselves in the middle of what would have been a very difficult month. You are truly a godsend.
Angela P
— Palmerston North —
Handy CASH Contact
Contact Number
E-Mail
Website
Physical Address
---
Postal Address
P.O. Box 22, Seventh Avenue Mail Centre, Tauranga, 3140, New Zealand
Opening Hours
Monday

11:30 – 20:00

Tuesday

11:30 – 20:00

Wednesday

11:30 – 20:00

Thursday

11:30 – 20:00

Friday

11:30 – 20:00

Saturday

Closed –

Sunday

Closed –