Loans bad credit up to $50,000
Low-interest starting from 13.95%
In-page navigation
---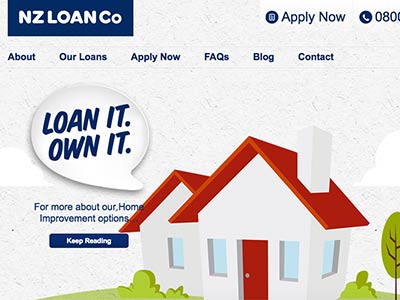 Author Loan Smart. Screenshot of Loan Smart website.


[Accessed April 17, 2018]
Loan Smart - Excellent customer care services
Since the foundation of our company we have been providing quick loan results, competitive rates and speedy settlements, not to mention excellent financial and customer care service. Since we're not a bank, we won't act like one!
Our main aim is to make your lending experience pain free and as pleasurable as possible. If not for our customers we would not be in business so we commit to team you in a professional manner and ensure that you are well informed as the process progresses, from the beginning of the process to where you have received the funds but by no means does it end there.
Quality products and services
We were established with one goal in mind and that was giving Kiwis an alternative choice of loans and financial services at the highest levels.
We understand when it comes to budgeting! We found that there were a lot of New Zealanders who would rather deal with an intimate lender who is able to give them the personal attention they deserve in terms of unsecured loans.
Should you be in search of assistance to pay for that holiday you just can't wait to go on, a bad credit loan to help you through the month or maybe you would like to clear all your debt, we can offer you a lending option that is more than suitable for budgeting options.
Loan Smart Services
We have noticed in the past years that our customers always turn to us for help on more than one occasion, this is a sure tell sign that they are more than happy with our services and their expectations have been met
Loan Smart is extremely proud to mention that it's thanks to our quality personal lending techniques and experiences that we are able to deliver an exceptionally good financial services.
We've done some calculations and it turns out that more or less 35% of our business is made up of previous clients who come back for one of our loans for bad credit on a month to month basis.
Loan Smart offers a range of lending products
Do you need a new car? No problem Loan Smart is able to assist
Do you feel the need to consolidate your debt? No problem, contact Loan Smart we can help you
Have you got an eye on a property you badly want to buy? No problem, we can make it happen
Quality personal loans to Kiwis with a bad credit history
We have to say that this personal loan is not just convenient, but it's also instant, our personal loans are offered across the country and we operate from Christchurch, Wellington and Auckland. All our services are personalised and tailored to make the solving of financial problems possible.
Loan Smart – Bad credit loan
Loan Type

Loans bad credit

Interest Rate

13.95 – 29.95% p/a

Loan Amount

up to $50,000
Benefits of Loan Smart
Bad Credit Loans
DEBT CONSOLIDATION Loan
Bad credit loan calculator
NZ Loan - Flexible repayment options
Loan Smart offers flexible repayment options to Kiwis on all our loan products which would also include bad credit loans.
We also give you the option of making repayments on a monthly, weekly or ever fortnight repayment plan making it possible for your repayments to fall in line with your salary schedule.
Unsecured loans for clients with bad credit
We offer unsecured short-term loans for individuals who are blacklisted – Loan Smart is here to help all individuals who are in need of a quick loan.
Should you have a bad credit record, we invite you to apply for our Smart Blacklisted cash loan and you may apply online from the comfort of your couch, or from your office, plus you are able to also apply using your smartphone or tablet. Visit our website for any further information.
Since we are a quality lender and we work closely with our customers, ensuring that they receive a service that will exceed their expectations, not only by means of financial services, we also put a great deal into customer care services as we promise to give you the best possible attention.
Loansmart would appreciate the opportunity of looking after your instant cash loan needs, we offer a committed team of finance consultants and our management is hands-on in the business, making sure that you feel comfortable and confident when dealing with us.
Apply online now for your Loan Smart Loan
How to apply – you're more than welcome to visit our site and click on "apply online tab" this will direct you to our online application form, you'll be requested to enter the required information that will be needed for the approval of your loan.
Our online application should not take long, maybe two or three minutes, Loan Smart understands the value of time, so we have made the process quick, so you need not worry that it will take too long.
Firstly, you'll start by providing all your personal details such as name, title, date of birth and so on… you'll also need to furnish us with the amount you are wanting borrow and you'll be requested to provide your monthly income after tax has been deducted.
Secondly, you are required to agree to the terms and conditions which will also include the privacy declaration as well give Loan Smart the consent for electronic disclosure to the email address you provided on your application.
Thirdly you submit your online loan application, all in three little steps. Once you have completed and submitted your online application we'll be in touch with your approval status.
Customer Reviews & Testimonials
"
Excellent products, excellent service and excellent rates; Loan Smart truly helps you to do finance the smart way. I recommend them to anyone in need of financial assistance.
Marvin S
— Alexandra —
With the help of a debt consolidation loan, I was able to turn my life around. Loan Smart showed me a smarter way of organising my finances and I have never been in better financial shape in my l...
Derrick R
— Hastings —
Loan Smart has highly flexible repayment terms; if you are the type that enjoys organising your own finances then you will love their approach. I was able to organise my repayments in the way tha...
Andrea W
— Stratford —
Loan Smart Contact
Contact Number
E-Mail
Website
Physical Address
7 Levinge Ln

Middleton

Christchurch

8024

New Zealand
---
Postal Address
PO Box 22097, Christchurch, 8142, New Zealand