Loans bad credit up to $50,000
Low-interest up to 18%
Repayment up to 60 months
In-page navigation
---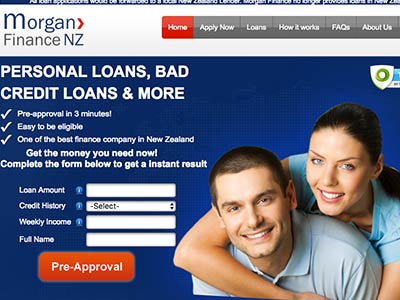 Author Morgan Finance. Screenshot of Morgan Finance website.


[Accessed April 17, 2018]
Morgan Finance - A fast and efficient loan service
Morgan finance is your financial solution when you need a loan between $500 and $50,000. The online loan application process is simple and straightforward and you will be given an outcome within 3 minutes.
We know when you need money, you need it now that is why once your application has been approved, we will transfer the funds to your account in as little as one working day. Our staff is highly trained to deal with any questions or issues that arise, they are friendly and helpful and will do everything they can to assist you with the lending process.
Advanced technology makes everything easy
Take a moment to log onto our website and complete the application form this should only take you a few minutes. You can apply for a personal loan 24 hours a day, 7 days a week. Once you have completed the application form and provided the relevant necessary documents, we will process your application and let you know the outcome in a few minutes.
The pre-approval process
If you would like to find out if you are pre-approved, then fill out our short survey. We will verify your data and let you know within 3 minutes if your quick cash loan was approved. If your loan application was unsuccessful, we would advise you to apply again using a joint application.
There is no obligation to take the loan if you are pre-approved the loan will only be finalized once you have signed the loan agreement and received the money.
Morgan Finance Services
Our bad credit loans are loans offered to those higher risk clients that may not have the best credit record. Bad credit loans require a form of collateral and are known as secured loans. The loan is secured by the property or vehicle that you own.
You are seen as a risky client to lend to because of your poor credit rating, but by providing security to the lenders, know that if you don't pay back the loan, then they can claim your collateral to cover the loan amount.
Apply using a joint application
If your credit score is very bad and we are unable to help you with a blacklisted loan then we would advise you to make a joint application
Apply with a person that has a good credit score and your loan application should be approved.
Make sure that you always pay your loan on time to keep your credit history clear.
If you do not make payments on this loan you could negatively affect the other person's credit that jointly with you.
Loans for unemployed people
If you are unemployed and you are in desperate need for some cash, we would like to assist you.
If you are receiving any benefits or waiting for a settlement amount we may be able to help you with a short-term loan until you get back on your feet.
Morgan Finance – Bad credit loan
Loan Type

Loans bad credit

Interest Rate

18%

Loan Amount

up to $50,000

Repayment

12 months to 60 months
Benefits of Morgan Finance
Fast Loans
UNSECURED Business Loans
SMALL BUSINESS Loans
Bad Credit Loans
SHORT-TERM Loans
Reantal Loans
DEBT CONSOLIDATION Loans
INSTANT Loans
Bad credit loan calculator
Morgan Finance - You can become debt free
If you have a bad credit score and you need to apply for a bad credit loan, then you are probably in some sort of financial difficulty.
Use your bad credit loan to consolidate your debt into one easy to manage payment. This is called a consolidation loan. A consolidation loan is the quickest way to get back on track with your finances. By using your loan correctly, you will be able to get ahead.
Who is eligible to apply?
To apply for a Morgan Finance loan you will need to be at least 18 years old. As our bad credit loans are secured loans you will need to have a form of collateral such as a motor vehicle or property that is in your name and that is fully paid for.
Pros of consolidating your debt using a secured loan
By using your secured loan to consolidate your debt you will benefit by paying a much lower interest rate. You will only need to make one monthly payment that will be much lower and very easy to manage.
A secured loan application is much more likely to be approved than an unsecured application, especially if you have a bad credit score. The lender won't care about your bad credit history as if you don't pay the loan they will claim your collateral as payment.
Cons of consolidating your debt with a secured loan
The biggest con is that if you don't pay back the loan, then you will lose your collateral. You should only consider this type of loan if you are sure that you will be able to make the repayments. Secured debt consolidation loans usually carry a longer-term meaning you will be in debt for longer.
No matter how carefully you plan in life sometimes it's unpredictable and expensive, so if you need some quick cash then you should give us a call and take back control of your financial future.
Applying for a consolidation loan is a much better idea than relying on credit cards to pay your debt. To help you manage your debt make sure you make wise spending decisions. Make a budget and stick to it.
Customer Reviews & Testimonials
"
With Morgan Finance, the road to obtaining a loan is not as narrow as it appears. With the use of a joint application, I was able to get the finance that I need. I highly recommend this option to...
Jackie S
— Palmerston North —
Even when I thought that I had hit rock bottom, Morgan was there to help me out. I was unemployed and they agreed to lend me a short-term amount to assist me back onto my feet. They are fair, the...
Alice W
— Gisborne —
With the assistance of a debt consolidation loan from Morgan I was able to become debt-free within a manner of a few hours. One quick application and some minor paperwork and my debt were no long...
Tayla J
— Masterton —
Morgan Finance Contact
Contact Number
E-Mail
Website
Physical Address
24B Moorefield Rd

Johnsonville

Wellington

6037

New Zealand
---
Postal Address
Suite 5147 24B Moorefield Rd, Johnsonville Wellington, 6037, New Zealand