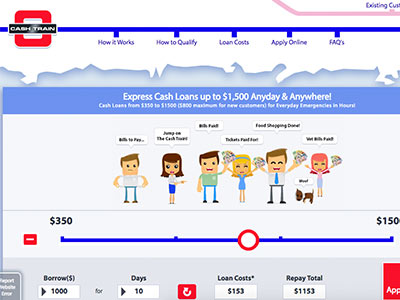 Author Cash Train. Screenshot of Cash Train website.


[Accessed April 17, 2018]
Cash Train - Same day loans
Cash Train offers an online application platform to enable New Zealander to apply for a much-needed personal loan at any time for any situation even if you do have a bad credit history. We offer a fast and reliable application process as well and our payouts are quick.
Our interest rates are highly competitive and we offer realistic fees, we are pretty transparent so that means there are no hidden or unexpected costs. Plus, we guarantee that the funds will be transferred within a period of 24 hours after your online application has been sent and approved.
We take the stress away when you have a bad credit history
We all go through bad times like perhaps losing your job and become redundant; divorce can also leave you pretty much penny less then there is also the possibility of ill health and you are unable to continue working, all this opens doors to a bad credit history.
Cash train understands that and that's the reason we permit people who do have a bad credit to apply for a bad credit loan with us.
We care about your financial wellbeing
Our business is centred around our client's financial wellbeing, guaranteeing that we deliver our services on a guarantee of offering you the monetary boost you need, when you need it.
Should have an emergency and need an instant loan urgently but you don't know what to do because you have bad credit; you need not despair because we are here to help you in any way we can. Give us a shout and find out how to go about it, we'll gladly assist you. Not all is lost!
Cash Train Services
We understand that's it's difficult to get from one payday to the next; we strongly suggest that you apply for your online payday loan today and catch a ride with Cash Train to your next payday.
Our payday loans have been specially designed to assist you in managing your budget effectively
When funds are low we are not able to budget for an emergency and that's where we come in.
Cash Train has a tailor-made option when it comes to you needing cash till payday for an emergency like going to the Dentist or Emergency room; these are the happenings that are not planned. But don't stress we're here to assist you through tough times.
Requirements to apply for a loan
In the case where you want a loan you need to be a New Zealand resident to be able to qualify, you should be earning a monthly income of at least $1 300 this also applies to people who have bad credit.
Apply for a loan online and receive your cash the same day!
We wouldn't fuss about what you need the quick loan for, it could be an unexpected bill that has come up and you haven't planned for; maybe your dream wedding or even when your vehicle needs repairs.
The only worry you have is to get the cash you need and our job is getting it for you.
When applying for a blacklisted loan with us you need to complete the online application form
Cash Train – Bad credit loan
Loan Type

Loans bad credit
Benefits of Cash Train
PAYDAY Loans
Bad Credit Loans
SHORT-TERM Loans
INSTANT Loans
Bad credit loan calculator
Cash Train - Loans for clients with bad credit
At the point when applying for your blacklisted loan with Cash Train, you just need to finish the online loan application, depending on the time you apply, you can have a response to the authorization in only a couple of hours.
We'll transfer the fund into your chosen bank account. We'll send you an agreement explaining the terms and conditions, and giving you the repayment alternatives which you can look through for your benefit.
See how stress-free it is to obtain a loan with Cash Train
We'll arrange for the repayments to be deducted straight from your bank account on your preferred date which is generally in accordance with the date your salary is paid into your bank account, it takes a lot of stress off going to the bank monthly to ensure payments are made. We strive to make things as easy as possible for all our customers.
In order to qualify for one of our bad credit loans you will need to be the age of 18 or older, be a permanent resident in New Zealand, earning a regular income and have proof that your salary is paid into your bank account each month, this means that we will request 3-month bank statements.
A little background of who we are
We are a brand of First Stop Money (Pty) Ltd. Our establishment is a registered credit provider. We have a professional management team with more than 60 years' combined experience.
In conjunction with our parent company PAID international Ltd, we have the pleasure of serving more than 5 000 borrowers on a monthly basis in New Zealand and Australia offering affordable payday loans, quick cash loans as well as offering loans to those that have been blacklisted.
Customer Reviews & Testimonials
"
Getting the credit that you need has never been easier than now with the assistance of Cash Train's new online application. All you need is a few minutes in front of your computer, smartphone or ...
Gareth M
— Invercargill —
Cash Train helped to take my stress away with their fast and efficient approach to alleviating my bad credit record. They are truly a blessing in disguise.
Reid A
— Wellington —
So often when you apply for finance, the lender does not worry about the potential impact that their loan will make on your financial wellbeing. Cash Train is different - they only lend to custom...
Belinda M
— Queenstown —
Cash Train Contact
Contact Number
E-Mail
Website
Physical Address
147 Cameron Road

Tauranga

Bay of Plenty Region

7140

New Zealand
---
Postal Address
PO Box 22, Seventh Avenue Mail Centre, Tauranga, 3140, New Zealand
Opening Hours
Monday

12:00 – 20:00

Tuesday

12:00 – 20:00

Wednesday

12:00 – 20:00

Thursday

12:00 – 20:00

Friday

12:00 – 20:00

Saturday

Closed –

Sunday

Closed –