Loans bad credit up to $50,000
Low-interest starting from 19.95%
In-page navigation
---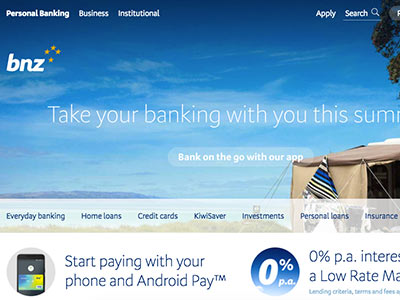 Author Budget Loans. Screenshot of Budget Loans website.


[Accessed July 3, 2019]
Budget Loans - Alternative loan solutions
For over 20 years Budget Loans has been providing New Zealand citizens with financial solutions. Our company is proudly New Zealand run and we employ our citizens to operate our business.
We were first established to provide an alternative loan solution and help clients reach their financial goals.
Our bad credit loans can be used for home renovations, weddings, and holidays or for a little help when you need to pay the bills.
Helping you understand financing
Handling money and understanding finances can be very confusing. There are so many different options it is sometimes difficult to know what the best solution to suit your needs.
Our consultants use their many years of experience to listen to and understand your needs and provide you with the best advice and instant cash loan options.
Budget Loans will help you find a loan that you can afford and help you budget to repay it without any problems.
Use your loan to increase your credit score and give you better financial options in the future.
Custom designed solutions
We specialize in designing a loan that is made especially for you and takes into account your individual circumstances and budget.
If you have bad credit we will work around this fact and make sure that your bad credit does not affect the outcome of your loan application.
Apply for a loan online via our website and you will receive an outcome within 2 hours.
Sign the loan application online and once we have received it, we will pay the money into your bank account.
Budget Loans Services
Our personal loans can be designed to suit your needs.
Decide how much you would like to borrow and how long it would take you to repay the money. A consultant will get in touch and help you through the entire process.
Apply for a Budget Loan in 7 easy steps
Complete the application form that is available on the website
One of our friendly consultants will give you a call
Send us the supporting documents that apply to your loan such as your bank statement and other relevant documents that may be requested
Our technology will process your application and verify your details
The loan documents will be sent to you via e-mail or courier service
Sign the documents in the presence of a witness and send them back to us
The money will be paid into your bank account
Supporting documents required
When you apply for a loan you will be asked to provide the following supporting documents together with your loan application.
A 30-day statement from your bank
Proof of ID
In the case of home loans your mortgage statement
A copy of your recent pay slip
Payment history and proof of residence
We will perform a credit check and make sure that you are able to afford the loan. We may suggest that you loan a smaller amount if we feel that you might struggle to make repayments on the loan amount that you requested.
You will need to sign the loan agreement in the presence of a witness that witness must be either a lawyer or a Deputy Register at your local courthouse. If you need assistance finding a witness the bad credit loan consultant will be able to help you.
Budget Loans – Bad credit loan
Loan Type

Loans bad credit

Interest Rate

19.95 – 24.95% p/a

Loan Amount

up to $50,000
Bad credit loan calculator
Budget Loans - Unsecured bad credit loans
Finding a loan when you have bad credit can be very difficult and many lenders will require you to provide collateral before they would consider lending you a cent.
Our bad credit loans allow you to borrow up to $3,000 and do not require any form of collateral as security. We will give you a second chance because we believe that you can and will make better financial decisions in the future.
Topping up your loan
If you are an existing client you will be given the option of topping up your loan when you need additional funds. The amount that you repay on the loan will then become available for you to use and as long as you keep making payments this credit can continue to revolve.
Calculators to help you figure it all out
We offer a number of different online calculators to help you figure out how much you would like to borrow and how long you need to pay it back. use the vehicle loan calculator, unsecured loan calculator, personal loan calculator or debt consolidation calculator to get a better idea of how much the loan will cost and if you will be able to afford it.
Budgeting for a vehicle
Our vehicle financing loans will help you pay for the car of your dreams. Our vehicle loans have a very fast approval time so that you don't miss out on the deal when you find the car you are looking for.
You can get pre-approved so that you know exactly how much you can spend and shop around confidently. Our car loans have a very low establishment fee with very flexible repayment terms and we offer optional extras to sweeten the deal.
Customer Reviews & Testimonials
"
With over twenty years under the belt, it is no wonder that Budget Loans is a Kiwi favourite. I have read many success stories and received a dozen recommendations and decided to try them out for...
Andrea M
— Auckland —
I thought that bad credit would be carried with me through the rest of my life. But I found Budget Loans who helped me to see that this was not necessary. They helped to arrange an amazing deal f...
Taylor S
— Dunedin —
If you are the type that likes to have a say in the way that your loans are structured then Budget Loans is the lender for you. When I applied for my loan I was able to customize it to meet my in...
Fable J
— Wellington —
Budget Loans Contact
Contact Number
E-Mail
Website
Physical Address
119 Carbine Road, Mount Wellington

Auckland

Auckland Region

1062

New Zealand