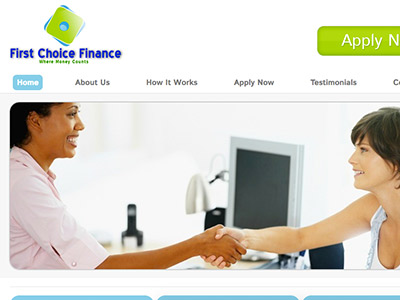 Author First Choice Finance. Screenshot of First Choice Finance website.


[Accessed April 17, 2018]
First Choice Finance - Loans up to $5000
First Choice Finance offers client's quick cash loans from $300 and up to $5000. The application process is simple and can be completed online within a few minutes.
There is no need to see a consultant in person or to visit one of our branches.
The application form is generated online this means that there is no need to complete any paperwork.
You can even sign the loan application securely via e-sign so there is no need to print any documents which in turn helps save the environment.
Applying is as easy as 1,2, 3
Applying for a loan for bad credit has been stressful enough without having to wait around for hours to hear if your application was approved or not.
We offer you an outcome quickly and if your loan application is approved then the money will be transferred into your account within 24 hours.
Apply online
Get your approval quickly
The funds will be paid into your account
What documents do you need to apply?
A copy of your recent pay slip
A copy of your bank statement for the past 3 months
A bill with your name and proof of address on it
A form of identification such as your photo ID, bank card, passport or birth certificate
Once your short-term loan application has been approved, we will help you schedule a repayment plan that you can manage easily and that suits your individual budget
First Choice Finance Services
Fast cash personal loans were designed to provide clients with quick cash in their pockets when they need it most.
Apply online and a consultant will contact you within 30 minutes to guide you through the rest of the loan application process.
What to consider when applying for a loan
At one time or another everyone in life has financial issues and could use a little extra cash in their pocket. This could be used to spoil your children make an extra car payment or pay for an unexpected expense.
Consider this before applying for a loan
Ask yourself how much money do you need to borrow?
What will the bad credit loan be used for?
How long will you need to repay the loan?
What is your payment frequency and how many payments would you like to make?
Can you afford to make payments on the loan or will the loan push you into debt?
Have you exhausted all other options such as asking family and friends for money?
Bad credit loans
Ask yourself if the loan will help you out of a bad financial situation or push you into an even worse one. Only apply for a loan if you are able to afford to make the repayment terms and be sure to never borrow more than you can afford.
If your family or a good friend has the means to assist you with a loan this can sometimes be a great option for those that have bad credit. They could offer you a reasonable interest rate regardless of your credit score. If they are able to assist you, you should draw up a proper loan contract and treat the loan as if it is from a bank and make sure that you always make your repayments on time.
First Choice Finance – Bad credit loan
Loan Type

Loans bad credit
Benefits of First Choice Finance
PERSONAL Loans
BAD CREDIT Loans
UNSECURED Loans
QUICK CASH Loans
Bad credit loan calculator
First Choice Finance - We can help you improve your credit score
Your credit report will always be taken into account when you apply for a bad credit loan or open an account. If you have a bad credit score your loan application has a higher chance of being declined as you are seen as a risky person to lend money to.
Your credit report is a list of your financial history, it includes all the payments that you have missed on accounts, late payments and outstanding loans and deb. The more transgressions you have against your name the lower your credit score will be.
There are ways to improve your credit score these include:
Making payments on time
Cancelling credit cards that you don't use
Transfer all credit card balances to one card
Make sure debts that have been settled have been removed from your credit report
Ensure that you settle all outstanding debt or make suitable payment plans to address it
To qualify for a bad credit personal loan you will need to meet the following criteria:
You must be a citizen of New Zealand
You must be 18 years or older
You must have a job and a regular income
You must have a valid bank account
Debt consolidation loan
When you have too many bills and not enough money to cover them all then you should consider a debt consolidation loan. This loan works by lending you enough money to pay all your debt. Once you are debt free you will only need to worry about paying us back.
This option will help you get back on your feet quickly financially and save you money as you only need to make one small repayment and no longer have to worry about a penalty or late fees on multiple accounts.
Customer Reviews & Testimonials
"
Why be a lender's second choice when you can be their first choice. First Choice Finance places their customers at the forefront of their operations and do all that they can to keep their custome...
Chantelle F
— Napier —
Get the money you need without the hours of waiting. Applying for a loan is generally done under stressful circumstances and First Choice is not here to try and make these matters worse. Make the...
Julia P
— Greymouth —
Applying for one of their loans is even easier than before. With a simple phone call or internet application, you can get the ball rolling. There is no catch; all it takes is a few simple steps a...
Brandon K
— New Plymouth —
First Choice Finance Contact
Contact Number
E-Mail
Website