Personal loans up to $50,000
In-page navigation
---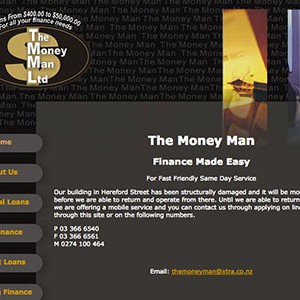 Author The Money Man. Screenshot of The Money Man website.


[Accessed July 3, 2019]
The Money Man - Quick personal loans
At Money Man, we strive to assist individuals with short-term loans. Not only are we responsible we are also a reliable New Zealand lender, we care about our customers and their financial well-being, we show respect and put emphasis on customer care.
There are two ways that you could apply for a loan: Firstly, we permit customers that want to apply for a payday loan via our website or telephonically, whichever method you choose our customer services will assist you.
Secondly, we also permit individuals with a low income, individuals who have an adverse credit history as well as the self-employed and individuals who are on benefits may apply for credit with The Money Man.
Flexible repayment terms
It doesn't matter to us what you need the cash for, pay outstanding bills, mend a pipe, or maintain your car and perhaps you take a holiday. Apply for a personal loan today it will only take a few minutes.
The Money Man offers flexible repayment terms which can be tailored to suit your salary schedule. We consider every application and aim to assist you with the funds you need as soon as we possibly can.
The Money Man Services
Our range of diverse alternative finance solutions loan offers is between $400 and $50 000 to individuals as well as businesses.
The Money Mans loans offer both secured and unsecured loans, we also accept a joint or guarantor applications. Apply for one of our secured or unsecured personal loans and we will assist you every step of the way.
Our loans pay out fast
Your personal and financial circumstances are taken into consideration before we tailor a loan package that is perfect for your situation, budget, and lifestyle.
We understand that not everyone's situation is the same; we are here to assist in paying those unexpected problems when they appear out of nowhere.
Apply for an emergency loan to assist you in paying for the unforeseen maybe your vehicle needs fixing.
Once your online loan application has been received and approved, you can expect the funds within two hours.
The Money Man – Personal loan
Loan Type

Personal loans

Loan Amount

up to $50,000
Benefits of The Money Man
The Money Man - Quick convenient online loans
Once you we've received your online application and all your information has been processed, we won't leave you waiting for an answer as to whether your quick loan has been approved or not, one of our consultants will contact you within two hours, with an offer on how much you are able to borrow, based on the information provided.
Should you be happy with the offer a loan agreement will be completed and sent to you for you to sign if you agree?
For smaller short-term and payday loans the funds could be in your account the same day, it could be a bit longer with larger amounts.
Bridging finance
This loan will assist you in having access credit while you are waiting for an insurance or ACC pay-out or if you are waiting for a cheque to clear so, in other words, the bridge finance loan is bridged between the loan and pay-out.
Eligibility
If you are 18 years or older (if not you will need a guarantor) a New Zealand Citizen, you earn a stable income, have a photo identity document and a bank account you may apply for credit with The Money Man.
In the case of you being self-employed or you have a poor credit history; you will need to prove your affordability, meaning that you need to be comfortable in making repayments.
Bad credit loans
We will consider your circumstance as not one person is turned away. However, if you are unable to prove that you are employed and have a regular income or if you are bankrupt or we are not able to assist.
Interest rates and fees
Generally, the interest rate is determined on whether you are applying for a secured or unsecured personal loan as well as your affordability. A secured loan typically carry's a lower interest rate. For individuals who have bad credit scores and are not able to access credit, are encouraged to apply for a secured loan or perhaps find a guarantor that is willing to provide the necessary guarantee for the loan.
How the process works after approval
Our lending decisions are made totally on your affordability even though we do conduct a credit check doesn't mean we won't consider your application because we take your circumstances into consideration and we look at whether you are able and comfortable to make repayments.
Our team members are well-trained and professional, they have the experience to assist you, they are devoted to our customers and will assist you and guide you through the process from the beginning to end of the process and should you have any questions or concerns they will give you the service that they have been trained for with their friendly attitude and always willing to listen.
Apply for an instant cash loan from The Money Man with our simple online application form which only takes a few minutes it's easy and fast. Please ensure that all your information provided is correct and accurate so that there is no delay in the process.
Customer Reviews & Testimonials
"
I'm self-employed and was relieved to find out that The Money Man could still help me with a personal loan. Thank you for helping me when I really needed it.
Julia G
— Palmerston North —
The Money Man offered me a rate that was lower than what another lender offered me. Needless to say, I went with The Money Man!
Matthew P
— Porirua —
An hour and a half after submitting my personal loan application, they had a decision for me. Outstanding!
Tane L
— Wellington —
The Money Man Contact
Contact Number
E-Mail
Website
Physical Address
8 Carnaby Cl

St Albans

Christchurch

8052

New Zealand