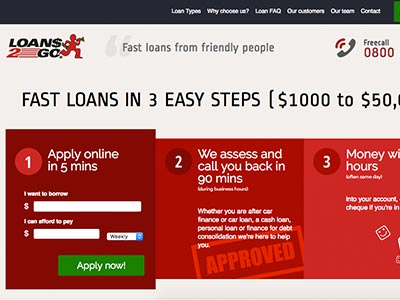 Author Loans 2 Go. Screenshot of Loans 2 Go website.


[Accessed April 17, 2018]
Loans 2 Go - Competitive interest rates
We are Loans 2 Go! We're in New Zealand and we are associated with E-finance group, Admiral Loans.
We are a 100% New Zealand owned establishment, and a registered concern who assists New Zealanders with all their instant loan needs.
We have extensive experience with many years of service (over 120 years to be exact) in the Kiwi loan industry, we use our experience to provide the best possible personal loan service and our client's needs are always our first priority.
Let us find the right loan for you
Loans 2 Go have close partnerships in place with secured and profitable businesses; this is beneficial to our clients when it comes to obtaining personal loans. One of our top negotiating powers is to attain the best possible rate and fees for our clientele.
Loans 2 Go offers a great product and great rates
Our finance team has the holding position of being the most experienced team in the country.
Take that step today and join our firm, you'll get more than you bargained for!
We deliver on our promises by going that extra mile, ensuring you get the best service together with the best quick online loan product possible.
Loans 2 Go Services
Loans 2 Go in New Zealand has great offers that could change your life from the get-go.
All of our team members are highly qualified and will give you the peace of mind in knowing that they will give the guidance. By having this re-assurance you can get back on track with your finances. We are but a call away or if you prefer a click away, Loans 2 Go will provide you with tailored personal loans suited for every situation.
Personal loan
Personal loans can be used for almost anything, take a vacation and go to a destination of your choice, renovate your kitchen, room or bathroom or give your home the facelift you've been meaning to do, but just didn't have the cash, school fees are always a priority and costly or go and spoil yourself at a day spa, maybe buy yourself something nice!! it doesn't matter what you use the money for.
Fast cash loan
We never plan for the unexpected, it can be really stressful when you have an unexpected medical emergency or a burst geyser and you need cash urgently. We offer a fast cash loan that could help you in a jiffy!
Car loan
Get a pre-approved car loan if you're looking to purchase a vehicle, this allows you to negotiate a good price because you already have the upper hand of knowing how much you have to send.
Loans 2 Go – Personal loan
Benefits of Loans 2 Go
PERSONAL Loans
CAR Loans
FAST CASH Loans
Instant Finance
DEBT CONSOLIDATION
Boat Loans
Second Mortgages
BUSINESS Loans
BRIDGING Finance
Christchurch Loans
Loans 2 Go - Fast reliable loans
Are you feeling overwhelmed with debt and you are unable to afford all the different repayments on your credit cards or store card plus we all have little bits of outstanding debt here and there?
This all adds up and can be more stressful. Make use of our debt consolidation loan, this allows you to settle all outstanding debt and you'll only have one loan account and one repayment to worry about.
Why applying for a personal loan at Loans 2 Go?
We can give you a few reasons as to why you should get your financial service through Loan 2 Go. We are devoted to ensuring that our Kiwi clients are well taken care of, in making the lives of our clients more bearable and stress-free.
Allowing our clients to take back the control of their finances, so that they can enjoy all the joys that life has to offer without having to worry about where the finances will come from.
Our super-fast process in obtaining a loan with Loan 2 go is straightforward and simple. It takes minutes to get approved and the cash could be in your account within a couple of hours.
Debt consolidation
When your financial situation is taking over your life and you feel there is absolutely no hope because the bills are piling up and you're not sure where the funds are going to come from, this can all be overwhelming and stressful right, but Loans2Go will have your back. All you need to do is make the call! We are confident that we have the right personal loan with your name on it.
We are a small team, don't let that fool you because our hearts are in the right place and we have the passion. We will fight for better rates and make sure we get you the perfect loan. Loans 2 Go can make your financial problems a thing of the past, unlike traditional banks, we are an independent concern and we know that clients need are unique, so we offer a unique service! Plus our service is intended to be a bit more on a personal level.
Provide us with the proof, so that we can establish if you meet our criteria. Once you have been assessed and we have given our approval, keep your phone close because the funds could be in your account with a couple of hours.
It's easy to apply through our user-friendly Loans 2 Go online loan application platform.
Customer Reviews & Testimonials
"
You get the sense that they understand what it's like being an ordinary Kiwi and it shows in how whenever you speak to one of the consultants, it feels like you're speaking to someone you know be...
Claire W
— Whangarei —
I usually don't enjoy taking out a loan because of how stressful it can be. However, when I applied to Loans 2 Go for a personal loan, their application process was so easy to get through and I h...
Luke H
— Napier —
Loans 2 Go offered me the best rate for my personal loan. Very happy.
Kai H
— Timaru —
Loans 2 Go Contact
Contact Number
E-Mail
Website
Physical Address
43 Mandeville Street

Riccarton

Christchurch

8011

New Zealand
---
Postal Address
PO Box 36 606 Merivale, Christchurch, 8146, New Zealand
Opening Hours
Monday

08:00 – 16:45

Tuesday

08:00 – 16:45

Wednesday

08:00 – 16:45

Thursday

08:00 – 16:45

Friday

08:00 – 16:45

Saturday

Closed –

Sunday

Closed –