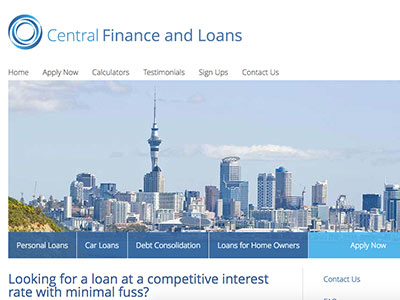 Author Central Finance Loans. Screenshot of Central Finance Loans website.


[Accessed April 17, 2018]
Central Finance Loans - The micro-loan specialists
Are you looking for a quick personal micro-loan you need look no further!
We have all you need to get your hands on that extra cash. Why waste precious time searching for the right loan company when we are right here for you. You need not become annoyed and lose confidence.
The experience that benefits our customers
Central Finance is based in New Zealand and we have a complete understanding of what it is people need when it comes to finding the right personal loan that is fast and will suit their requirements.
We have been in the industry by assisting people to get the financial rewards by offering a committed service to those in need of financial assistance.
Give us the opportunity to exceed your expectations
We allow you to take a back seat whilst doing all the work for you. By no means are we new to this industry, we have a client retention rate that exceeds expectations as well as the ability to offer payday loan products that will suit every need. We are here to help you, give us a call.
Processes simplified to make life bearable for our customers
When it comes to providing quick loans we do not waste time by harping on all the unnecessary issues.
Our processes are streamlined and very simple, we offer a solution with one application and one credit check. We will do all the searching amongst our Kiwi lenders to find a solution that's best suited for you.
Central Finance Loans Services
We offer our customers an all-in-one service, our customer care is of high quality from an inspired team will see you as an individual and not just a number.
We are an accredited financial concern who is on your side; we can source the best personal cash loan deals available, with the best rates as well as the best repayment term available to you. Apply online today, it's that simple. Central Finance has an experienced team of financial orientated people and we offer more than Personal and unsecured loans.
We won't take a challenge lying down and are confident that we are the best financial loan provider New Zealand has to offer. Make use of our short-term loan products it may be just what you're looking for.
Fast loan approval times
It's not always necessary to provide security; we could source through our profile of lenders and find the ideal loan for you. If you are looking to borrow a larger amount and you do have the surety we will be able to assist you. Apply for a personal loan of between $1 000 and $5 000 and it could be approved within a matter of two hours. You can use the fund for anything you like. We understand that there is almost always a need for extra cash and that's the reason we are here to assist you.
Our car loan will get you back on the road again
If you're looking to be out with the old and in with the new! Our car loans can get you behind the wheel sooner than you think. We offer cash to enable you to go and do a little car shopping. With our motor check plan, you can secure your purchase with peace of mind and all that needs to do is ensure that the essential checks on the vehicle that you wish to purchase are done. We will do all the work for you by checking if the vehicle has been registered, that it has not been reported stolen and that the vehicle has been settled in full by the previous owner.
Central Finance Loans – Personal loan
Benefits of Central Finance Loans
PERSONAL Loans
Loans for home-owners
DEBT CONSOLIDATION
Central Finance Loans - A range of loan options
Get out of the debt cycle sooner with a debt consolidation loan
If you're feeling troubled and miserable and don't know how to get yourself out of all those little accounts you've managed to build up over the years
You could consider a debt consolidation loan, use the funds to settle your store account, credit cards and any other little loose ends and only have one loan repayment to manage, this also makes budgeting a lot easier for you since you have one fixed.
You are able to choose your repayments by means of monthly or weekly plus you could save on all the interest because this sort of loan generally offers a lower interest rate.
An online application process is simple and user-friendly
Once you've completed your online loan application which only takes 5 minutes to complete, we will assess your information and decide whether you have the affordability of the loan you are applying for. When the assessment has been completed and you've been approved, we'll send you the loan terms via email.
Don't forget that there is always a solution to your financial requirement and we have it all online and available for you to make use of whenever you are in need.
We have the innovation and experience; we also have genuine care for our customers that are in need. You have nothing to lose, we invite you to join our financial firm with financial leverage that will get you a personal loan that is tailored for your unique needs one that will suit your budget and bring you peace of mind.
Customer Reviews & Testimonials
"
They make you feel valued as a customer and make it a point to always treat you with respect. I believe this is the type of company anyone would like to deal with when taking out a loan.
Arun S
— Christchurch —
Thanks to Central Finance Loans, I found a personal loan and got approved on the same day. Couldn't be happier!
Harry G
— Napier —
Thank you for a very competitive interest rate for my personal loan. I'm very pleased.
Caitlyn C
— Porirua —
Central Finance Loans Contact
Contact Number
E-Mail
Website
Physical Address
1 Magnolia Place

Richmond

Nelson

7020

New Zealand
Opening Hours
Monday

08:00 – 17:00

Tuesday

08:00 – 17:00

Wednesday

08:00 – 17:00

Thursday

08:00 – 17:00

Friday

08:00 – 17:00

Saturday

13:00 – 16:00

Sunday

13:00 – 16:00