Personal loans up to $20,000
Low-interest starting from 17.95%
Repayment up to 3 years
In-page navigation
---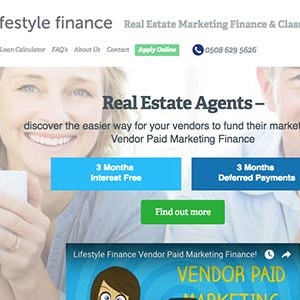 Author Lifestyle finance. Screenshot of Lifestyle finance website.


[Accessed July 3, 2019]
Lifestyle Finance - Affordable personal loans
We are a privately owned and operated organization, specializing in short-term loans in New Zealand.
Our director, Karen Jackson, started Lifestyle Finance after realizing that there were many New Zealanders could possibly benefit from a smarter way to fund the marketing of their homes.
We specialise in focusing on assisting our customers to pay for the promotion and marketing in order to sell their homes.
We are committed to providing the best service.
We have a clear understanding of what is important to our clients. We are well aware that when it comes to personal loans you would like to know what the outcome is as soon and receiving professional advice so that you can be assured that you are making the right decision.
We also know that you would appreciate a loan approval process that's simply another important aspect of being able to have the affordability and to settle your personal loan earlier than anticipated with having to pay any penalty fees.
We will help you make the best choice
Lifestyle wants you to make an intelligent financial decision, when it comes to the promoting and marketing of your home, we have a professional, experienced and friendly team who will guide you to ensure that the decision you make is the right one
Lifestyle finance Services
We work hand in hand with leading Real Estate Agencies to bring you the greatest quick cash loan terms when the marketing of your home is found. Making certain that your property is perfect before sale.
There is always something that needs attention around our homes, fixing of a pipe or a painting of a wall so if you want to maximize the sale price, it is often a good idea to tidy up and make your home neat before you put it on the market.
Finance can be funded for any renovation needs
All you need to do is let Front Door know what sort of renovations you would like to carry out in order to get your home ready for a sale, and we'll provide the personal loan.
Best of all is that you won't need to make repayment on any of the principles within the first 90 days.
Imagine your home at its best – then allow Lifestyle to take care of the outlay of making it the way you imagine.
For renovation finance up to $20,000
Reasons you should use Lifestyle Finance - below are some guidelines that may be useful:
Lifestyle offers a term of up to 3 years (first three months are repayment free) thereafter a repayment of 33 months on if this is a requirement.
A fee of $95 will be waived if the repairs are done within 90 day's
Should you borrow more than &20 000, will require a caveat of $226 to be charged.
Lifestyle finance – Personal loan
Loan Type

Personal loans

Interest Rate

from 17.95%

Loan Amount

up to $20,000

Repayment

12 months to 3 years
Benefits of Lifestyle finance
No charges for early settlement
90-days deferred payment
Fasy and easy funding
Lifestyle Finance - Quick and easy loan applications
Should you repay your personal loan with 3 months there will be no early settlement fee charged, however, there is an application fee of $165 and a $10 fee on early settlement should your loan be repaid from the 4th month onwards. Plus there is a charge of $1.80 charged on a monthly basis for service fees on the duration of your loan.
We have quite strong relationships with some of the best agency networks across New Zealand, the interest portion for the first 90 days will be covered by your agent.
This typically provides you with enough time to sell your home and make repayment of the loan before any interest is incurred. You are not able to access the funding of the sale of your home privately because we work solely via Real Estate Agents.
Loans up to $20, 000
As soon as the finance is approved, funds will be paid directly to the borrower so that the costs of material and or tradespeople are covered Marketing campaigns could be financed between $100 and $20 000 and you do not have to provide security to safeguard your instant cash loan.
It's simple to apply for a loan with us
We offer a term of up to 12 months, although it is a requirement that your loan is repaid within 90 days. Even though we specialize in assisting you with the sale of your home, we possibly could other related activities such as small renovation work you need to have done.
The finance provider will be paid directly to the Real Estate Agency trust fund account and not you because the funds are used solely for marketing your property/home. Staging fees are not included.
Our commitment to providing the best marketing funding possible
Apply for a loan with Lifestyle today, it's no secret that finding the very best price for your home means that you need to find as many prospective buyers as possible.
The success in getting several interest buyers is by ways of the marketing campaign you use to promote the sale of your house. But the question is how you do you find the best finance to market for your property. Contact us today and find out! Get the best price for your home!
Customer Reviews & Testimonials
"
The staff does everything with a positive attitude. They offer support throughout the whole process and are easy to get hold of when you need help with something.
Thomas B
— Lower Hutt —
Their approval process is fast, which helped me a lot because I knew early on that I would get the funds I needed.
Wiremu K
— Nelson —
I liked how everything was laid out to me in simple English so that I understood clearly the details of my personal loan. Thanks for your transparency. That made my experience borrowing from you ...
Stephanie B
— Tauranga —
Lifestyle finance Contact
Contact Number
E-Mail
Website
Physical Address
18 Whaka Terrace

Huntsbury

Christchurch

8022

New Zealand