Debt consolidation up to $50,000
Low-interest starting from 6.99%
Repayment up to 5 years
In-page navigation
---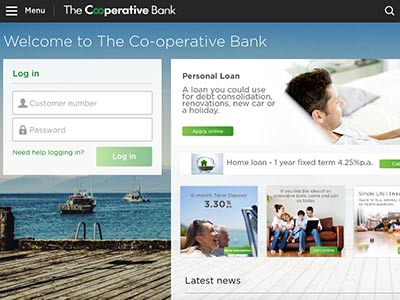 Author The Co-operative Bank. Screenshot of The Co-operative Bank website.


[Accessed April 17, 2018]
The Co-operative Bank personal loans and more
The Co-operative Bank was founded in 1928 to provide services and loans to public servants in New Zealand.
We have grown to the extent where we are able to provide personal financial products to individuals across the county, our application process and personal loans are easy and straightforward. The Co-operative Bank covers an extensive range of borrowing options, loan amounts start from $3 000. You are able to apply for one of the following loans with us.
Debt consolidation loan
If you feel that you're falling apart because your debt is just too much and you're not sure how you're going to make all the payments. Consider a debt consolidation loan with The Co-operative Bank.
All your outstanding debt will be combined into a single loan and you'll only have one single repayment to take care of each month. You are also permitted to settle your consolidation loan earlier if you are in a position to do so and you won't be charged any extra fees for early settlement.
Unsecured personal loan
You may apply for a personal unsecured loan from Co-operative Bank for any personal need you may need to cover, whether it's for traveling, taking a vacation or home renovations we can cover it for you.
The Co-operative Bank Services
Take a quick look at what options we have to offer and the benefits thereof, from no early repayment charges to very attractive interest rates across our vehicle finance and personal or debt consolidation loans.
We offer our customers a wide range of flexible borrowing options and are repayable over a period of 60 months.
The Co-operative Bank offers a personal loan that is suitable for debt consolidation or vehicle purchases and much more and for those unexpected expenses we offer overdraft facilities.
Vehicle loan
You are able to borrow up to $80 000 financings if you would like to purchase a vehicle.
This car loan includes a pre-approval option; this allows you to go shop for the car of your dreams as if you are a cash buyer.
Personal overdraft facility
Have access to additional funds when you need it, a personal overdraft that is linked to your bank account allows you to cover unexpected expenses especially when there are emergencies.
Our fast cash loans are flexible and as easy as it is quick to apply for.
The Co-operative Bank – Consolidation loan
Loan Type

Debt consolidation

Interest Rate

6.99 – 19.99% p/a

Loan Amount

up to $50,000

Repayment

6 months to 5 years
Benefits of The Co-operative Bank
Consolidate debt
Online application
Affordable interest rates
---
The Co-operative bank - Tailormade loans
We offer a wide range of interest rates founded on your credit eligibility, the amount and term of the loan you are applying for. Floating interest rates will be adjusted as the rates fluctuate over a period of time.
No-fee early repayment
Absolutely you can repay your Co-operative Bank personal loan sooner without stressing about early repayment costs, or that you'll be penalized for settling your loan too soon.
Quick online application
All you need is 15 minutes to complete your online loan application, stipulating the amount you would like to borrow and all your personal details. Approval is quick; however, some applications may need additional checking.
Special discounts
If you are a current customer and bank with The Co-operative Bank, you can enjoy the reduced interest rate. If your main income is paid into your everyday bank account with us, there are larger discounts available, but there are lesser discounts available should you hold two or more of a select group of insurance policies with The Co-operative Bank.
Flexible repayment period
You are permitted to make repayment on your personal loan across a period of 6 months to 60 months.
The Co-operative Bank also offers the standard personal banking products, including:
Home loans
If you're looking for a pre-approved home loan try us, which could also include floating rate home loans offering low rates as well as home loans that offer a fixed rate for up to five years. Co-operative invites investors, builders, and buyer to apply.
Current accounts
Co-operative offers a variety of bank accounts that include; everyday accounts, debit card accounts as well as savings accounts and youth accounts that are aimed at young people. We also offer accounts for small businesses and tertiary students.
Credit cards
Apply for our single credit card which offers a fixed low rate for the duration of the card, and a balance transfer which offers a rate that is even lower.
Savings and investment accounts
With all we have to offer you're to find a suitable product with The Co-operative Bank; apply for a KiwiSaver account or a term deposit or even a standard savings account.
Your eligibility requirements
You need to be 18 years or older, you may only apply if you are a New Zealand citizen or a permanent resident. A good credit record gives you a better chance of obtaining a consolidation loan. In order for the bank to assess your ability to make repayments, it will be essential for you to provide a full income statement which should also include your main source of income.
Required documents
Your identity document, although your driver's license, a passport is also accepted as proof of your identification.
Customer Reviews & Testimonials
"
Making use of the Co-operative Bank's credit offers has made my road to a debt-free life a lot easier to travel.
Jack T
— Raglan —
I have never been mistreated by the agents that work at the Co-operative Bank.
James W
— Masterton —
Applying online on the Co-operative Bank's website turned out to be easier than I thought.
William M
— Auckland —
The Co-operative Bank Contact
Contact Number
E-Mail
Website
Physical Address
10 Queen St

Blenheim

Marlborough

7201

New Zealand
---
Postal Address
PO Box 180, Whangarei New Zealand
Opening Hours
Monday

09:00 – 17:00

Tuesday

09:30 – 17:00

Wednesday

09:00 – 17:00

Thursday

09:00 – 17:00

Friday

09:00 – 17:00

Saturday

Closed –

Sunday

Closed –