Debt consolidation up to $40,000
Low-interest starting from 9.95%
Repayment up to 5 years
In-page navigation
---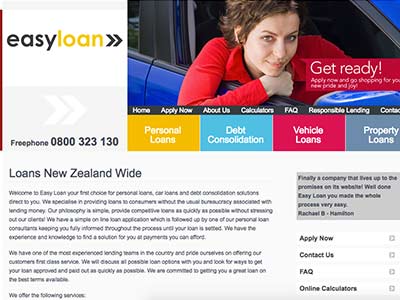 Author Asset Finance. Screenshot of Asset Finance website.


[Accessed April 17, 2018]
Asset finance - Low rates and fees
Yes, there are a number of Finance Companies you can choose from!
But why should you when we're right here for you, we are customer-focused and we have a team that will go the extra mile for you when you look to us to to consolidate your debts.
This is who we are and this is what we do!
Asset Finance is situated in New Zealand and we are a Kiwi–owned Establishment, we have grown from strength to strength over the years.
We've gone from a small local concern to a national company, our loan book is potentially reaching a book value of $20 Million mark and we employ about 20 full-time staff, of whom 9 are based at our Head Office in Whakatane, where the greater part of our administration, personal loan payouts, and investment deposits are managed.
We are transparent
We pride ourselves on the fact that we are transparent, flexible and 100% customer-focused; plus each application is reviewed on its unique merit, as we search for the best possible solution for each customer.
As in the past, we continue to source investment deposits from the community so that we are able to lend those funds to the people of New Zealand, businesses, and trusts.
Our lending is delivered to consumers and business finance solutions with a loan, our loans range between $1 000 and $4 000 or more depending on collateral.
Asset Finance Services
Our lending is provided in the form of a range of quick loans and business finance solutions with loans ranging from $1,000 to $400,000 or more.
Generally, it's stressful when you are trying to obtain a debt consolidation loan and it becomes confusing; our goal is to take away the stress and make it easier for you. We have a trained team to make the processes quicker, clearer and to eliminate the hassle as much as we possibly can.
Some History on Asset finance
In 1997 Clive George realised that there was a lack of options available to many New Zealanders who needed to get their hands on cash quickly so that they could pay for unanticipated emergency bills, and consequently Asset Finance was established.
We've developed and expanded considerably since 1997 and we registered our first Prospectus in 2004 because we needed to raise further funds from the community.
This is our mission
Our commitment to our customers is to provide short and medium-term financial services and products that will be of assistance to New Zealanders and businesses assisting them to accomplish their goals. Our aim is to provide a personalised, affordable and friendly personal loan service to each individual customer; we also aim to go that extra mile so that services can be as simple and convenient as possible.
Times were difficult between 2006 and 2010 and many well-established finance institutions didn't make it but we were able to succeed through a savvy lending policy as well as strong domination and this protects our lenders and borrowers equally. It is with gratification that we were able to endure the latest global financial predicament and we are proud of it.
Asset Finance – Consolidation loan
Loan Type

Debt consolidation

Interest Rate

9.95 – 29.85% p/a

Loan Amount

up to $40,000

Repayment

3 years to 5 years
Benefits of Asset Finance
Apply in only 10 minutes
Fast approval
Funds transferred the same day
---
Asset Finance - Life after debt
If you are struggling with too many bills, we can assist you to make things easier by offering you a debt consolidation loan. Asset finance debt consolidation loans on offer are between $3 000 and $40 000.
This is how a debt consolidation loan works; we settle all your current debts and roll them into one easy consolidated loan with one single repayment. Meaning there are less stress and no fuss. This will give you that chance you've been waiting for and that's just to get on with life without having piles and piles of confusing payment, no calls from creditors which can be quite tiresome and time-consuming and you'll have no endless paperwork.
The maximum term for a debt consolidation loan will depend on the security you have to offer. Normally the maximum terms range between 3 years if you are offering your motor vehicle for security and up to 5 years if you're offering your property as security.
What you could benefit from a debt consolidation loan
You are permitted to combine your existing credit cards and personal or payday loans and hire purchase into one consolidated loan and only have one repayment to make, it simplifies your life and finances.
A debt consolidation loan offers a fixed-interest-rate, meaning your repayments are set for the duration of the loan which means you can with ease.
You are able to choose when you would prefer to pay because the repayment day aligns with when you are paid, you can arrange for monthly, weekly or every fortnight.
We are able to assist you with a debt consolidation loan if:
You should be at least 18 years and older (or have a guarantor that is prepared to provide a freehold car or motor vehicle or perhaps a home or land with sufficient equity), it is essential that you are a New Zealand citizen or a permanent resident and you will need to earn a regular income.
Customer Reviews & Testimonials
"
Asset Finance will never give you a loan you can't afford to pay.
Mia R
— Wanaka —
After applying for Asset Finance, I only had to wait a few hours to get positive feedback.
Alex C
— Gisborne —
Asset Finance uses a very simple and straight forward loan application system.
Allistar N
— Blenheim —
Asset Finance Contact
Contact Number
E-Mail
Website
Physical Address
204 Commerce Street, Frankton

Hamilton

3204

New Zealand
---
Postal Address
PO Box 497, Whakatane, 3120, New Zealand
Opening Hours
Monday

08:30 – 17:00

Tuesday

08:30 – 17:00

Wednesday

08:30 – 17:00

Thursday

08:30 – 17:00

Friday

08:30 – 17:00

Saturday

Closed –

Sunday

Closed –