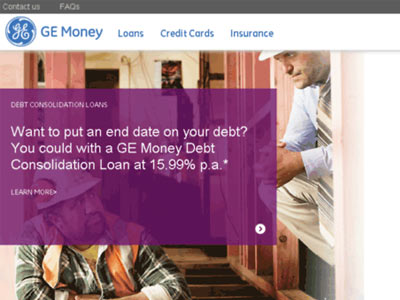 Author GE Money. Screenshot of GE Money website.


[Accessed April 17, 2018]
GE Money - A team of credit experts
GE Money is there for you when you need a positive lending solution from a company that you can trust. We have assisted over 3.1 million customers throughout Australia and New Zealand with vehicle loans and personal financing solutions.
Our team of experts will help you find the loan solution that will suit your requirements. If you are looking to purchase a vehicle we offer special loans on both old and new vehicles.
What we offer our clients
Our service is there for you in your time of need to help you gain control of your financial future. The benefits of doing business with us are as follows:
Benefit from a fixed interest rate
Our personal loans start at $5,000
Our loan terms are flexible and customized to suit your requirements
You can customize your repayment schedule
Bad credit loan solutions
Making bad financial decisions can affect the chance of applying for credit in the future. If you have a low credit score or marks on your credit report, a lender may see you as more of a risk to lend money to and they may decline your loan application.
We believe that your past financial mistakes shouldn't affect your ability to apply for a loan and we have designed bad credit loans especially for those clients. Our bad credit loans offer very easy repayment terms.
GE Money Services
Another popular option for those that are struggling financially is to apply for a credit card. A credit card works as a revolving line of credit that gives clients access to additional funds up to an agreed upon amount.
The client can then make payments on the card each month and once they have paid off a portion of their account they will have access to the funds once again.
Why credit cards are such a popular option
Most credit cards come with an introductory grace period of between 30 to 45 days where they benefit from paying little or no interest on purchases made on the card. This means that if you pay for the item in the interest-free period you will save money.
A good example would be using a credit card to purchase an airline ticket as most credit cards come with free travel insurance. Credit cards come with different rewards to make them more attractive. Using your credit card to rent a vehicle or pay for your hotel room takes the hassle out of the process and credit cards are great for keeping a proven track record of your spending habits.
Use your credit card as a safety net
A credit card is a great safety net to have if you need money in a hurry or you find yourself in a crisis. A credit card that is used correctly can allow you to borrow money at no cost to you.
Pay for the item you need and if you pay it off your credit card during the grace period you have essentially borrowed money interest-free. Your credit card can be used instead of a personal loan or a payday loan that will end up costing you a lot more money.
Benefits of GE Money
PERSONAL Loans
DEBT CONSOLIDATION Loans
CAR Loans
---
GE Money - Choose the right credit card
There are so many different options available when you are looking for a credit card may come with different benefits and attractive first purchase offers.
Think about what you will be using your credit card for, everyday purchases or a more big-ticket item? If you purchase a lot of everyday items such as groceries, then you should look for a credit card that offers great rewards for everyday purchases.
Rewards cards sometimes come with a higher interest rate charge. A low rate credit card is best for those that won't be able to pay off their entire purchase during the introductory period and need more time to pay.
What is a 0% interest or balance transfer credit card?
There are so many different companies that offer credit cards that some come with very attractive benefits these include a 0 % interest on balance transfers from other cards for a special introductory offer.
This offer is valid for a limited amount of time and can be used to pay off your other debt at a much lower interest rate. Once the special offer is over the credit card will revert back to normal rates.
Credit cards work in the same way that an unsecured loan would work and as they are unsecured you don't need to supply an item of collateral so there is very little risk involved. A credit card is a bit like having an overdraft facility on your account, and as you pay off your balance you will have access to more money in a revolving fashion.
It is important that you use your credit card wisely it may be tempting to use your credit card for luxury purchases but you should only use it for necessary purchases.
Customer Reviews & Testimonials
"
The service is excellent and I can recommend them if you are looking for a credit card and not sure who to talk to them they are the best.
Melody S
— Auckland —
The application can be done online and you can also go into the offices if you are unsure and that is why you should choose them.
Martin B
— Nelson —
You will not have to wait for long once you have applied for your card and that is also great if you are needing a credit card.
Christian L
— Timaru —
GE Money Contact
Contact Number
E-Mail
Website
Physical Address
8 Tangihua St

Auckland

Auckland Region

1010

New Zealand
---
Postal Address
PO Box 4058, Shortland Street, Auckland, 1140, New Zealand
Opening Hours
Monday

08:00 – 18:00

Tuesday

08:00 – 18:00

Wednesday

08:00 – 18:00

Thursday

08:00 – 18:00

Friday

08:00 – 18:00

Saturday

09:00 – 17:00

Sunday

09:00 – 17:00