Car loans up to $100,000
Low-interest starting from 11.95%
Repayment up to 5 years
In-page navigation
---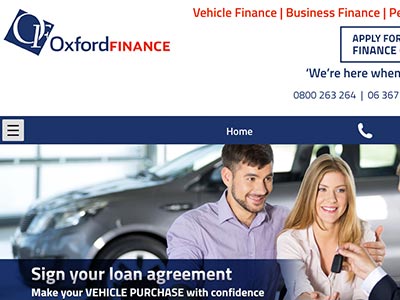 Author Oxford Finance. Screenshot of Oxford Finance website.


[Accessed April 17, 2018]
Oxford Finance - Affordable loans
Oxford Finance forms part of the Turners Automotive Group we provide flexible financial solutions for both businesses and personal use. Our contracts are straightforward and very easy to read and understand.
We have over 65 years of experience and have opened 3 branches across New Zealand, we are here for our customers and help them find the best quick loans and business finance solutions that meet their individual requirements.
Our philosophy is to keep things as simple as possible while keeping your loan affordable and helping you pay back the loan your way on your terms.
Financing for your wheels
We offer vehicle financing, financing for motorbikes and trucks with very flexible repayment terms. Get a pre-approved car loan so that you know which price range to search in and can act like you have the cash in your hand.
Make sure that you research the vehicle that you are interested in as much as possible to avoid paying too much or paying for features that should come standard.
Find out how much money you need
Make sure that you know exactly how much you need to borrow by using our online calculator to help you.
The calculator will tell you more or less how much your installments will be and how long it will take you to repay the personal loan.
Oxford Finance insurance options
Our insurance options cover you in the event that the unthinkable should happen.
We offer loan repayment insurance if you are unable to honor your loan agreement, lifestyle insurance, guaranteed asset protection, mechanical breakdown insurance and private motor vehicle insurance.
Oxford Finance Services
We offer a wide variety of services including vehicle financing, personal loans and business loans. All our services are available online and are very easy to apply for.
Choose the loan option that suits your needs best and completes the online application form, you will need to answer a few questions regarding your income and your credit history.
How the interest rate is calculated
The amount that you are charged for interest on one of our car loans will depend on a number of these different factors include:
The type and the worth of the security that is provided
The value of the item in relation to the loan amount
Your credit score and previous credit history
Your personal and credit profiles
Your risk analysis
You can choose between short-term loan terms ranging from 12 months and up to long term loan terms of 60 months depending on the loan agreement.
The minimum loan amount is $2,000 and the item used as security should exceed that value and be in a good condition to be able to be sold to recover the money for the loan in the event of non-payment.
How to repay your loan
Setting up a direct debit to run automatically each pay cycle takes the stress out of paying off your loan. The direct debit ensures that you will never miss a payment and will reflect positively on your credit report.
We will send you a message the day before to remind you so that you can ensure you have money in your account and that the direct debit is honoured.
To apply for a loan online you need to be at least 23 years old unless you are applying with a joint application with either your parent or a co-borrower.
Oxford Finance – Car loan
Loan Type

Car loans

Interest Rate

from 11.95%

Loan Amount

up to $100,000

Repayment

6 months to 5 years
Benefits of Oxford Finance
Rates are competitive
Pre-approved finances
Flexible repayment terms
Oxford Finance - Straightforward vehicle finance
We will remove the confusion from applying for a vehicle loan.
Simply log onto our website and complete the required application form. If you are under the age of 23 you will need to apply with a guarantor.
What is a guarantor and why you need one
A guarantor is a person that signs the contract with you, by being this they taking responsibility in the event that you are unable to make payment on your loan.
If you are under the age of 23 or if you have a bad credit score or little or no credit history you will be encouraged to apply with a guarantor for a bad credit loan.
As you are seen as a risky client the guarantor will give the lender peace of mind that if you don't repay the loan, then the loan will still be paid by the guarantor.
Private sales welcome
If you have found the vehicle that you are searching for then we can finance a deal for you even if the vehicle is being sold privately.
We also offer to finance boats, caravans and motorbikes. You can use your pre-approved for up to 14 days before it expires, this should give you plenty of time to shop around and find your preference.
Insurance is compulsory
When you purchase your vehicle through one of our car loans, insurance is compulsory as part of the deal. This not only protects our investment, but it protects you as well.
If you need insurance our friendly consultants can help you determine the best package to suit your needs and take care of all the details on your behalf.
There are many options available depending on your needs and if the vehicle will be used for personal or business use.
Customer Reviews & Testimonials
"
They are the company to contact if you are unsure all you have to do is email them which you can do at the bottom of the web page and if you would like you can phone them too.
Jen B
— Queenstown —
I used the calculator to recalculate how much my loan will be and it has made me happy to know that I will be able to afford my loan with ease.
Erick N
— Christchurch —
The service is amazing when I submitted my loan application they phoned me to let me know that there was a part of the information that was missing and they asked for my details over the phone.
Larsen A
— Auckland —
Oxford Finance Contact
Contact Number
E-Mail
Website
Physical Address
171 Oxford St

Levin

Horowhenua

5510

New Zealand
---
Postal Address
P O Box 429, Levin, 5510, New Zealand
Opening Hours
Monday

09:00 – 17:00

Tuesday

09:00 – 17:00

Wednesday

09:00 – 17:00

Thursday

09:00 – 17:00

Friday

09:00 – 17:00

Saturday

Closed –

Sunday

Closed –