Car loans up to $80,000
Low-interest starting from 6.95%
Repayment up to 60 months
In-page navigation
---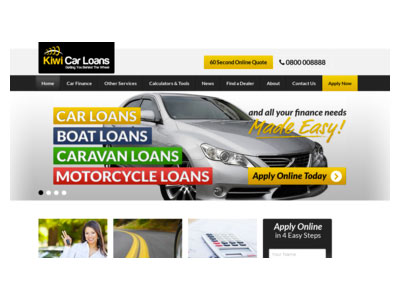 Author Kiwi Car Loans. Screenshot of Kiwi Car Loans website.


[Accessed April 17, 2018]
Kiwi Car Loans - We understand your financial needs
Kiwi car loans aim to get you into the driving seat of the vehicle of your dreams. We have partnered with New Zealand's leading lenders to ensure that you get the best financing available. We offer loans for cars, bikes, boats and caravans.
We understand that you won't want to wait for your vehicle for a long time. That is why we do everything at lightning speed.
We will do all the running around so that you won't have to. Our leading team of expert negotiators will find you the best deal at the lowest price and in no time at all we will hand you the keys so that you can drive away happy.
It only takes 60 second
Complete the loan application online and within 60 seconds we will let you know if your application was approved or not. If you have any questions or you prefer to speak to a consultant you are welcome to give us a call. We have helped thousands of clients to find their dream car and to pay for it.
What you need to get financing
When you apply for a car loan you will need to provide us with a proof of address, your last 3 months' bank statements to verify your income. We require a copy of your latest payslip and a form of identification that can be your ID, driver's license, or passport.
Kiwi Car Loans Services
Paying for your vehicle is just as easy we will require payment via a direct debit system that deducts the payments automatically. These debits will deduct automatically.
You will be able to apply for refinancing on your car loan if the need arises. The interest rate that you are charged will vary depending on how much you borrow, the terms of the loan agreement, your other financial commitments and your credit history. These factors will also determine how much you will be able to borrow.
Car financing options
There are a number of different options available when it comes to vehicle financing and you might not know which option Is the best for you.
Our consultants are night skilled and will be able to help you chose the best option to meet your individual circumstances. We do the negotiations on your behalf and use our great relationship with our lenders to ensure that you pay less.
Other options of financing include
Secured vehicle loans
Private sale car loans
Unsecured personal loans
Self-employed loan
Kiwi Car Loans – Car loan
Loan Type

Car loans

Interest Rate

6.95 – 19.95% p/a

Loan Amount

up to $80,000

Repayment

12 months to 60 months
Benefits of Kiwi Car Loans
Get pre-approved
Choose the best lender for you
Rates are affordable
Kiwi Car Loans - Understanding the terminology associated with car loans
There are a lot of confusing terms that you need to familiarise yourself with to understand your car loan contract.
A car loan is a personal loan product that lends you the money you need to pay for your vehicle.
Chattel mortgage
This car loan is for businesses and the customer will take ownership of the vehicle as soon as the vehicle is purchased.
Commercial hire purchase: this is basically the offer to hire the vehicle. This can also be referred to as CHP or HP
There are a few things you need to consider when you are ready to purchase your new vehicle we have been in the business for many years, so we have discovered a few things that you should take into consideration when you negotiate with the dealer.
Ask what the drive away price is
The driveway price is the amount that you will need to pay before you are able to drive off the lot in your new vehicle. If you purchase your car early in the year, check which year model you are purchasing as the one from the previous year should be offered at a discounted rate.
Make sure you do some research online on how much the vehicle you are interested in costs on average and what features come standard on the vehicle. Walk into the dealership with as much knowledge as possible so that the salesperson doesn't try to take advantage of you.
Before you sign for the delivery
Most people are so excited when they get their new car that checking it thoroughly is the last thing on their minds. You must make sure that you check the car for any damage, scratches or other damage before you take delivery of the vehicle.
Once you have signed it will be a lot harder to report damage as the dealer can argue that you signed that you received the car in a good condition. The dealer should walk around the car with you and check as well as give you a quick tutorial on any of the cars special features.
It is a good idea to prepare a checklist so that you don't forget anything due to the excitement. Make sure you know what's covered by your insurance policy is and what isn't. Make sure that you revive your service manual, log book and any relevant service receipts.
Make sure that the registration papers are filled out correctly and that your payment has been approved. Then drive away in your new car.
Customer Reviews & Testimonials
"
Have you been looking for a company that meets your needs and has super-fast applications then this is the company for you it only took me like three minutes to fill out the form.
Dwayne B
— Auckland —
You can ask them to contact you if you are uncertain of which loan would suit you or the amount that you are looking at getting if that is the correct amount for you.
Tara B
— Wellington —
They can even offer you a quote in 60 seconds there is no one better than the company that I have right now.
Joe J
— Queenstown —
Kiwi Car Loans Contact
Contact Number
E-Mail
Website
Physical Address
692 Great South Road, Penrose

Auckland

1061

New Zealand
---
Postal Address
PO Box 11798, Ellerslie, Auckland, 1542, New Zealand
Opening Hours
Monday

08:30 – 17:45

Tuesday

08:30 – 17:45

Wednesday

08:30 – 17:45

Thursday

08:30 – 17:45

Friday

08:30 – 17:45

Saturday

08:30 – 17:45

Sunday

08:30 – 17:45