Car loans up to $100,000
Low-interest starting from 14.95%
Repayment up to 48 months
In-page navigation
---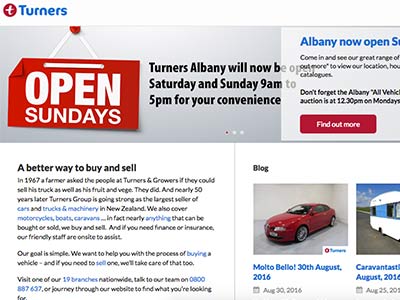 Author Turners Auctions. Screenshot of Turners Auctions website.


[Accessed April 17, 2018]
Turners Auctions - Get your dream car today
Turners Finance is the easiest way to get the car you need as quickly as possible and drive away smiling. Our aim is to get you behind the wheel as quickly as possible. As long as you are over the age of 18 and you have a learners permit or a driver's license, then you can apply for one of our car loans.
Apply for a personal loan online to get pre-approval by completing the application found on our website. Use the calculator to determine how much you will need. Select how much the vehicle will cost and how long you will need to pay back that amount. Select if you have a deposit to put down and how much your deposit is.
Talk to us to find the answers
If you want a new car, but you don't know what you want or you need a vehicle that has special safety features our consultants can help you find the car that you are searching for. So you don't waste your time, simply fill in the contact us form on the website and we will get someone to call you back and help you through the process of finding the right car and top car loans. This consultation is completely free of charge and obligation free.
Keeping you up to date
We keep you up to date with what is going on during the live auction if you are unable to attend. You can request e-mail or text message updates on any vehicle that you are interested in. Our website is mobile compatible, so you can have the auction in your pocket from wherever you are. As soon as you have found your vehicle, let us take care of the financing.
Turners Auctions Services
We offer personal loans and special car loans for cars, trucks, boats and marine equipment, motorcycles and scooters and other general goods.
Our auctions are the best place to find a vehicle in your budget range. We hold live auctions and auctions online. If you visit the branch we will send a consultant to you to a live auction so that you can see how it all works.
BuyNow and drive away today
We have over 1,500 BuyNow cars available if you want to buy your car on the spot you will be given a discounted rate and you don't need to wait until we host a live auction.
If you find a car you are looking for in our live auction section you will still be able to purchase that vehicle until 60 minutes before the live auction starts.
To use the BuyNow feature on our website you will need to create an account and accept all relevant terms and conditions.
Once you have found what you are looking for add your purchase and enter your payment details. You will be asked to confirm your purchase and then your purchase will be completed.
If you are looking for a specific make or model of vehicle you can use our search function to view exactly what you are looking for.
If you don't find what you are looking for then set up a notification that will send you an e-mail each time vehicles with certain specifications are uploaded.
Turners Auctions – Car loan
Loan Type

Car loans

Interest Rate

from 14.95%

Loan Amount

up to $100,000

Repayment

12 months to 48 months
Benefits of Turners Auctions
Online pre-approval
Affordable loans
Get quality cars online
Turners Auctions - A wide variety of products and services
We have partnered with Trade Me so you have access to all of our vehicle options and theirs and you will still benefit from our great deals and low-interest rates on vehicle loans.
Online Auction
An online auction is an auction that takes place online you can make a bid on the vehicle that you are interested in and view all vehicles on auction via our webpage. Remember that buyer's fee are not included in the car price when you purchase via a live auction and those fees still need to be added.
Live auctions are very exciting, but can also be a bit overwhelming for a first-time buyer. Our staff is there to make sure that you understand the process and hold your hand through the live auction so that it doesn't become too much to handle.
We will assist you with placing a bid if you are interested in, if you are the highest bidder, you will win the vehicle and your personal consultant will help you complete the relevant paperwork and arrange to have your car delivered if necessary.
Making the bidding process easier
To make the bidding process as simple as possible, we have designed these helpful features:
We list the image of the vehicle along with the prices and a report on the condition of the vehicle.
You can switch between different auction types at the click of a button
If someone has previously asked a question about that vehicle, then the question and answer are listed so that you can read any comments or complaints
You can easily save a car to your Watchlist and be notified if someone is interested or if the price decreases.
Live online auctions can be viewed directly from our website by you must have an account in order to make a bet on a vehicle. If you're looking to apply for a loan and need assistance let us know
Customer Reviews & Testimonials
"
Besides being able to get your car loan from them you are also able to get your insurance for your vehicle and much more from the company and that is why we will use them.
Jarred L
— Auckland —
We sold our old car through them and still applied for our other car loan so that we would be able to buy our new car cash and pay the loan off once a month.
Peter S
— Queenstown —
They approved my loan faster than the other company has ever done it now I am able to get my car finally.
Monty R
— Wellington —
Turners Auctions Contact
Contact Number
E-Mail
Website
Physical Address
Penrose Road and Leonard Rd

Penrose

Auckland Region

1061

New Zealand
---
Postal Address
PO Box 112-022, Penrose, Auckland, 1642, New Zealand
Opening Hours
Monday

07:30 – 18:00

Tuesday

07:30 – 18:00

Wednesday

07:30 – 18:00

Thursday

07:30 – 18:00

Friday

07:30 – 18:00

Saturday

09:00 – 17:30

Sunday

10:00 – 17:30