Quick decision
Low-interest starting from 7.95%
Repayment up to 6 years
In-page navigation
---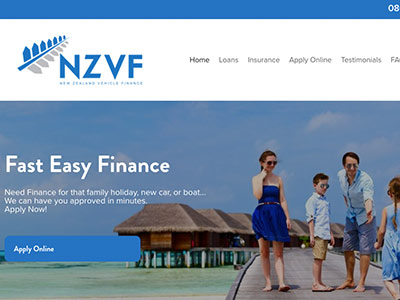 Author NZ Vehicle Finance. Screenshot of NZ Vehicle Finance website.


[Accessed April 17, 2018]
NZ Vehicle Financing - We do finance better
NZ vehicle finance loans allow you to act as though you are a cash buyer through one of our pre-approved loans.
By knowing exactly how much you have to spend you can have the power to bargain and make sure that you can take advantage of time-sensitive deals.
We do vehicle financing better
Our instant loans offer competitive rates and we work hard to meet your financial requirements and make your experience as stress-free and easy as possible.
We have no deposit or very low deposit options to suit your needs and your budget.
Our consultants will design a package that is tailor-made for your needs.
Our loans offer the following benefits:
Our long and short-term loans are competitive and they offer a fixed interest rate. The application will only take you a few minutes to complete
You can apply for a no-obligation free loan and our costs are more competitive than most banks
Our decisions are made by real people that understand your unique situation and not by a computer-based program
We offer financing on both new and used cars
Our financing terms range between 6 months and up to 6 years and we customize the terms to suit your budget. Repayments are arranged to be deducted according to your pay frequency.
We ensure that all the information we give you is true and ethical and that you understand the contract before you sign it.
If you would like a consultant to help you find a vehicle we would be more than happy to assist you.
NZ Vehicle Finance Services
We offer a number of different loan products, whether you are looking for a personal loan, home loan, or car loan you have come to the right place.
Our business has grown so quickly because our clients are so happy and keep telling their friends about us, our personalized service and low costs ensure that you always get a better deal.
NZ vehicle finance personal loans
If you require a personal loan our personal loans are perfect for paying bills, having extra money to go on holiday, paying for concert tickets or for attending a special event. Our loans repayment terms are easy to manage and are flexible to adjust as your needs change.
Benefits of our personal loans include:
We have a 24-hour service that you can access online and we promise to get back to you within 24 hours
Our car loan interest rates are very competitive and you can qualify for a lower interest rate if you have a good credit record
Choose between terms of between 1 and 4 years
Arrange to have the payments match your pay frequency
There are a variety of different security options
Your interest cost is charged at a daily rate and is a fixed fee
All information is 100% ethical and correct
Quotes are obligation-free and it's free to apply for a loan online
Business financing options
We offer competitive business financing options for your single or fleet of business vehicles. If you need a loan for plan equipment or if you need to upgrade your existing equipment or you need to use the business loan to raise extra capital for your business. We offer competitive interest rates on our loan options that are able to work within your budget. There are many benefits associated with this package.
NZ Vehicle Finance – Car loan
Loan Type

Car loans

Interest Rate

from 7.95%

Repayment

12 months to 6 years
Benefits of NZ Vehicle Finance
Fast approval
Speedy funding
Flexible repayment terms
NZ Vehicle Financing - Insurance is very imported when purchasing a vehicle
Most lenders will require insurance as part of the online loan agreement. We offer a wide range of products including comprehensive cover, mechanical warranties and GAP cover. Make sure that you are protected from the unexpected by choosing us to cover your vehicle.
Cover your vehicle for:
Mechanical breakdowns
Payment protection plan
Complete vehicle insurance
GAP cover
What a GAP cover is
GAP cover refers to Guaranteed Asset Protection financing this insurance product protects you in the event that your car gets stolen or if you are involved in an accident.
Things to remember about GAP insurance:
GAP insurance can only be purchased in conjunction with an active credit contract and in the event of a total loss the contract will need to be active
The vehicle needs to have comprehensive insurance in order to have GAP insurance
The contract must be valid for at least 60 months or for the original length of the original credit contract
This type of insurance can only be purchased at the time that the vehicle is originally purchased
Other additional benefits include:
This cover will cover any excess in relation to the total loss of the vehicle
It will cover the road costs and the registration costs associated with the vehicle
You will be reimbursed up to $1000 to replace your vehicle
This cover will reimburse you up to $200 for out of pocket expenses
This cover will reimburse you the cost of hiring a vehicle for up to 5 days
There are many different options available for your vehicle finance. It is important to know how much you need and how long you will need to repay the loan. Make sure that you read all the terms and conditions very carefully before you sign the loan agreement.
Customer Reviews & Testimonials
"
If you are looking for a car loan that will suit your pocket like I was I would highly recommend the company they will do the best for you.
Ryan A
— Auckland —
The best part is with them you can choose if you want to pay your loan back over 6 months or 6 years they have a plan for everyone.
Hannah M
— Timaru —
The company is great my mate told me about them when I was looking at getting a new boat yes even though it was not a car they still took the time to help me get the appropriate loan.
Michael C
— Hamilton —
NZ Vehicle Finance Contact
Contact Number
E-Mail
Website
Physical Address
5 Norris Ave

Te Rapa

Hamilton

3206

New Zealand
Opening Hours
Monday

09:00 – 17:00

Tuesday

09:00 – 17:00

Wednesday

09:00 – 17:00

Thursday

09:00 – 17:00

Friday

09:00 – 17:00

Saturday

Closed –

Sunday

Closed –