Car loans up to $50,000
Low-interest starting from 9.90%
Repayment up to 7 years
In-page navigation
---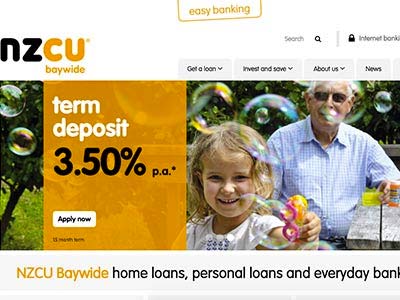 Author NZCU Baywide. Screenshot of NZCU Baywide website.


[Accessed April 17, 2018]
NZCU Baywide - Affordable loans
Our business is unique because we are owned by our members, so we know exactly what you need and what you find important.
We support our New Zealand people at our company is both owned and run by Kiwis. Our ever-expanding business allows us to give back to the community via scholarships, supporting community initiatives and other programs that our members would like to support.
Lending a helping hand
We help in every way that we can, from finding you a personal loan, helping you search for your dream home or a new set of wheels to volunteering in the community and giving people a hand up instead of just a handout.
Our promise to you
NZCU Baywide promises our clients that we will uphold the following values and always put our clients first. We own it by always being courageous, we own our actions and act with discipline and integrity.
We deliver our promise to you by bringing you the most innovative products and deliver more favorable outcomes each year than most other lenders. We aim to grow together by helping our community, staff and our clients.
Personal loans from 8.9% p.a
If you apply for one of our personal or vehicle loans you can win $5,000 in our lucky draw.
Our personal loans can be customized to suit your needs, simply choose between secured finance from 8.9% p.a with the minimum loan amount of $2,000 or an unsecured loan from 11.9% p.a with the same minimum loan amount.
NZCU Baywide Services
To find out exactly how much you need to borrow to finance what you are looking for then take advantage of our online calculators that will help you figure out your financing.
Our personal and short-term loans range between $2,000 and up to $60,000, chose how much you would like to repay and the calculator will let you know how long it will take to repay your loan.
Car loans and vehicle financing from 8.9% p.a
When you are looking for a car loan then we have the solution you are looking for, chose between secured and unsecured car loans and decide if you are going to put down a deposit or not.
Can you afford a car loan?
Before you decide to take a car loan or any form of quick loan you need to look carefully at your finances to see if you will be able to afford the loan comfortably. We will perform a credit check and an assessment of your credit history. If you meet our minimum lending criteria you can qualify for a free pre-approved loan.
By getting pre-approved you will know how much you have to spend and you will be able to negotiate a better deal as you have the power to act as a cash buyer. If you have already found what you are looking for give us a call and we will help you finance your vehicle purchase.
Overdraft that doesn't break the bank
An overdraft facility allows you access to extra cash when you need it, use this money for car repairs, to pay for medical expenses or to buy groceries to get through till the end of the month. The overdraft cash can be used for any reason there are no restrictions.
NZCU Baywide – Car loan
Loan Type

Car loans

Interest Rate

9.90 – 28.90% p/a

Loan Amount

up to $50,000

Repayment

6 months to 7 years
Benefits of NZCU Baywide
Affordable loans
Fast funding
Easy and fast loan application
NZCU Baywide - The overdraft facility
If you are already a client of NZCU Baywide then you will be able to apply for an overdraft facility in only a few minutes. You can also get an instant loan online as an existing customer
Confirm your details over the phone and the money will be available to use almost instantly. This extra benefit will give you access to the cash you need when you need it, set an agreed limit and the money is yours. If you need more money after you reach your limit, give us a call because we may be able to assist you depending on a few factors. If you need a motor vehicle loan contact us or apply online
Increase or decrease your limit
Unlike most overdraft facilities you are able to decrease your credit limit, do this by decreasing your limit through regular payments. This facility helps you manage your money better if your situation changes and you no longer need the overdraft facility, you can easily pay the balance and remove it from your account. Your money will be available quickly and are easily accessible with your AccessDebit Mastercard. The maximum overdraft amount is $2,000.
An overdraft facility
This is an unsecured line of credit that is available immediately and can be used without any restrictions. This function is linked to your active account and works on a revolving basis. The more you repay the more will be available to you the next time that you need it. You are only charged interest on the amount that is overdrawn and the service is available 24 hours a day.
Securing your loan to lower the charges
If you have a bad credit record or a low credit score you can apply for a secured loan. A secured loan will also mean that you pay less interest on your loan. Our secured bad credit loans range from 8.9% p.a. Secured loans require collateral in order to secure them.
Customer Reviews & Testimonials
"
If you need a company that will show you how to save while you are paying back your loan then this is the company for you they have helped me save and pay my car loan back with ease.
Jeff S
— Ashburton —
Yes yes, I have been approved for my car loan what amazing service super quick I can't believe it.
Claire W
— Wellington —
If you are able to save with the company and get a car loan you should look at investing with them you will not be let down they will help you to get your financials higher than they have ever be...
Zoë L
— Masterton —
NZCU Baywide Contact
Contact Number
E-Mail
Website
Physical Address
Shop 9, Top Town Shopping Mall, 119 Devon Street East

Westbrook

New Plymouth

4310

New Zealand
Opening Hours
Monday

09:00 – 16:30

Tuesday

09:00 – 16:30

Wednesday

09:00 – 16:30

Thursday

09:00 – 16:30

Friday

09:00 – 16:30

Saturday

Closed –

Sunday

Closed –