Business loans up to $1,000,000
Low-interest starting from 6.43%
Repayment up to 15 years
In-page navigation
---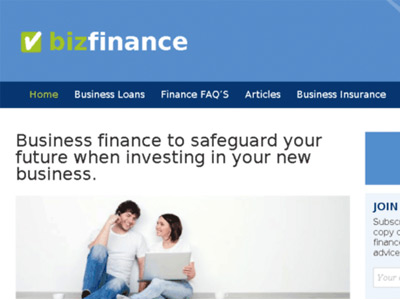 Author Biz Finance. Screenshot of Biz Finance website.


[Accessed April 17, 2018]
Biz Finance - A reliable credit provider
Whoever said "two heads are better than one" knew exactly what they were talking about because when two forces decided to become one, Asset Finance became one of the best credit providers.
It is usually quite difficult to get a business loan especially when your enterprise is just starting but we have made things a lot easier. We do all the hard work while you relax.
The last thing you need to be worried about is whether or not you meet our criteria. The requirements that we have are not too hard to meet but should we find that you are struggling, we will advise on what you need to do better in order to be on the right track.
A reliable and great workforce
Our team of consultants work tirelessly to ensure that you get the best quick loans possible. They are not only professional but they also empathize with you and try to meet you half way. In the end, it is a "job well done" moment when we give entrepreneurs loans because we know how much this means to their businesses.
If you must know, our agents are never late. If you feel that your application is taking a bit longer than expected, it probably because you submitted your documents late.
We pride ourselves in providing a fast and effective service because we know that clients often want to make use of the money right away. Having said that, we will never delay your business credit application on purpose.
Biz Finance Services
Clients who are interested in applying for business finance can do so by either completing the online application or coming to our offices.
Should they prefer to call, we will still want certain documents so it is better to come and apply for finance physically through one of our consultants. The application consists of a series of questions where we ask you about your personal information, your business and the financial side of your enterprise.
We need to know how much your cooperation makes on average in order for us to determine how much you can borrow. In the long run, we don't want you to have a big loan that you won't be able to pay for. Affordability is one of the first things we look for. We also don't want you to take out a short-term loan and find that you do not have sufficient cash flow to make the required repayments.
Biz Finance documents submission
As previously mentioned, there are certain documents we will require from our clients in order for us to process their online loan application. In essence, we need to see evidence that their business is financially capable to pay off the loan that they are applying for. We will be able to make such an analysis by going through bank statements and other financial documents of the company.
If we find that the business is on the verge of bankruptcy, we might not be able to help because no matter how you look at it, they will not be able to pay back the money they are borrowing. It is very important that customers are honest when they apply for a business loan.
Biz Finance – Business loan
Loan Type

Business loans

Interest Rate

from 6.43%

Loan Amount

up to $1,000,000

Repayment

12 months to 15 years
Benefits of Biz Finance
Affordable loans
Save time by applying online
Reliable loans
Biz Finance - The business finance specialists
The money will be transferred in your relevant business account
After we have assessed your application and found that everything is in line, we will deposit the money in your business account. We will never delay the process. We know that customers usually need to use money with immediate effect.
Having said that, we will ensure that you get the money so that you can use it for your business affairs. Depending on what time the loan was approved, it may take one or two business days for the money to reflect in your bank account.
The amount you can borrow
The money you can borrow will depend on how much profit your operation makes on average and the security you have given us. Although we usually quantify the collateral according to the money you are looking for, a small exception may be made.
In the event of you not being able to pay your loan, we will take the security you have given us. However, we always try to ensure that it doesn't get to that point. If you are not able to make payment, please notify us and we will see if we can't something figure out.
If you continue missing payments, this may make your credit record seem a bit shaky. Having a bad credit record will have a negative impact when you want to apply for a business or personal loan in the future.
Eligibility check
We will have to check whether or not you in good financial standing take the amount of money you are applying for. However, we will also need to assess the assets that you have and your debts apart from the loan you are intending on having with Biz Finance.
Required documents
We look for the nature of your enterprise, financial statements and other relevant documentation that is related to your business.
The criteria
In order to qualify for one of our business loans, the customer has to be 18 years old. Furthermore, the client has been a New Zealand occupant or should possess permanent residency.
Customer Reviews & Testimonials
"
They have helped us to get the loan that will sort all our business problems out and we will always be grateful and on top of it, they have made sure that we have insurance now too.
Jackie J
— Wellington —
They have helped us to secure a new property so that our business can grow and become more financially stable they always care about the customers.
Tara E
— Auckland —
The service is excellent and that is why I will never leave the company as they have helped me to get my company running and it is doing better since I made sure to take all the information they ...
Jermaine T
— Wellington —
Biz Finance Contact
Contact Number
E-Mail
Website
Physical Address
---
Postal Address
PO Box 33276, Christchurch, 8244, New Zealand