Loans bad credit up to $100,000
Low-interest starting from 14.95%
Repayment up to 60 months
In-page navigation
---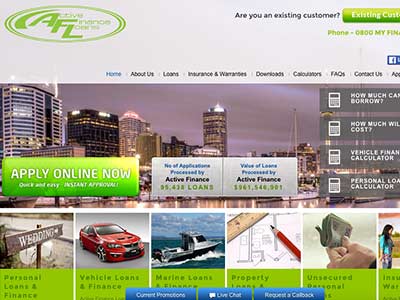 Author The Active Finance. Screenshot of The Active Finance website.


[Accessed April 17, 2018]
Active Finance - the lowest interest rates in New Zealand
Active Finance offers the fastest and friendliest service when it comes to getting you the best deal on personal loans, vehicle financing, debt consolidation, or bridging finance.
We offer loans with the lowest interest rates in New Zealand by providing access to our large network of lenders. By having options you will be able to compare deals side by side and chose the loan option that you prefer.
Our mission
Since 2000 we have assisted many New Zealand clients to get the loan they were searching for. Our mission is to help our clients in their time of need, by providing helpful friendly financial advice and guidance when assisting them in obtaining a bad credit loan.
We aim to get our clients the lowest rate possible with repayment terms that can be customized to suit their needs. We are a proudly New Zealand owned company that is owned and operated by New Zealand citizens.
How much you can borrow
To help you determine how much money you could comfortably afford to borrow, we have provided a helpful calculator. Use the calculator to find out how much longer it would take you to pay back the desired amount and when you get paid weekly, fortnightly or monthly. The calculator will give you a rough idea of what your repayment terms will be.
Our philosophy is to keep you happy by making the loan process as stress-free and easy as possible, we this by treating our clients like family and providing the lowest interest rate. We are a loan comparison service that uses our knowledge to find you the best financial solution to suit your needs.
The Active Finance Services
One application gives you access to a wide range of lenders without negatively impacting your credit record.
When you apply for a loan through our service by we will apply to the lenders in our network that can cater to what you are looking.
By having access to more than one lender you can compare offers and save money.
Lending criteria needed to apply
As we are a loan finding service we can find you the loan you are looking for no matter what your credit score is as if you have a bad credit record we will find possible bad credit loans on your behalf.
As long as you are over the age of 18 years and you live in New Zealand and have a stable income, we will almost certainly find you the solution you need.
Secured personal loans
When you have very bad credit longer there is still light at the end of the tunnel in the form of a secured personal loan.
In some cases, a lender will accept a form of collateral as insurance against the stress-free.
As you have proved that you have a bad credit score and you may be risky to lend money to the lender will require a form of security that will ensure that you will repay the loan.
By listing your fully paid for house or car as collateral the lender will be able to claim it if you don't make the payments.
This gives the lender security so they are more likely to accept your quick cash loan application, but is very risky for you as if you default on your loan you will lose your collateral.
The Active Finance – Bad credit loan
Loan Type

Loans bad credit

Interest Rate

14.95 – 25.95% p/a

Loan Amount

up to $100,000

Repayment

6 months to 60 months
Benefits of The Active Finance
Bad credit is welcome
Affordable loans
Easy loan application
Bad credit loan calculator
Active Finance - We can help you become debt free
Use the online calculator to find out how much you would be able to afford to pay each pay cycle and how long it will take you to repay the loan for bad credit.
Our friendly consultant will help you arrange a payment plan that is easy to manage and suits your wallet. To make repaying your loan simple, we will help you set up a direct debit on your account so that you never miss a payment.
Your bad credit score can make it tricky to obtain a loan. We a that this is very frustrating and stressful and that you may require a loan regardless of your previous credit history.
Your credit history is only one factor in your financial situation we judge you on your total ability to pay your loan back.
If we are unable to assist you with a bad credit loan, we will be able to assist you with a secured loan.
How much interest you are charged
Blacklisted interest rates vary depending on your overall credit report. If you offer security again the loan and the terms of the loan agreement minimum terms are months while maximum terms range up to 60 months.
Interest rates range between 14.95% of the maximum of 25.95%
Bad credit vehicle financing
When you are trying to purchase a vehicle stress-free your credit history will be checked and if you have a bad credit score it can be very difficult to obtain vehicle financing.
At Active Finance we believe that your bad credit score shouldn't make you miss out on getting the car of your dreams. Even when you have a bad credit score, we will be able to help you with a bad credit car loan.
Customer Reviews & Testimonials
"
Active Finance boasts the lowest interest rates in New Zealand. Most lenders all promise that their rates are the best but Active Finance is actually right. I could not believe how affordable the...
Jackson R
— Alexandra —
From bridging finance to debt consolidation and vehicle finance – Active Finance has it all. Their products are not only versatile but flexible too so you can get the perfect loan to suit your bu...
Jake B
— Hastings —
A bad credit loan from Active Finance helped me to recover when an unexpected expense found its way to me. They are very helpful and truly are experts in their field.
Denise M
— Stratford —
The Active Finance Contact
Contact Number
E-Mail
Website
Physical Address
101 Cavendish Dr

Papatoetoe

Auckland Region

2104

New Zealand
---
Postal Address
Active Finance, P.O.Box 276-029, Manukau, Auckland, 2241, New Zealand
Opening Hours
Monday

09:00 – 17:30

Tuesday

09:00 – 17:30

Wednesday

09:00 – 17:30

Thursday

09:00 – 17:30

Friday

09:00 – 17:30

Saturday

Closed –

Sunday

Closed –