Loans bad credit up to $50,000
Low-interest starting from 6.99%
Repayment up to 7 years
In-page navigation
---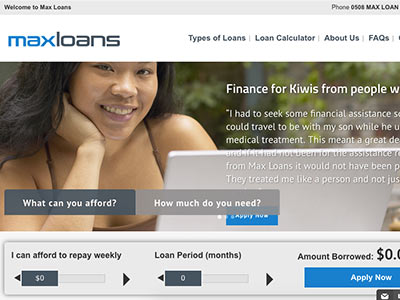 Author Max Loans. Screenshot of Max Loans website.


[Accessed April 17, 2018]
Max Loans - Expert loan service
Max Loans are there to assist you when you need a personal loan fast. We listen to our clients and make sure that we understand exactly what they are looking for in order to get them the best deal possible.
Our company is different, we believe in the personal touch. To us you are not just a number, your thoughts and feelings are important to us.
Finding you the loan that you need
With our large network of lenders we are sure to find you the bad credit loan that you are looking for at the most reasonable rate. There is nothing more frustrating than call centre agents; you explain your entire story once only to be put through to another operator where you need to explain it all over again.
When you deal with us you will have one personal broker that will know exactly what your circumstances are and how to help you fix them. With access to a pool of lenders you have more chance of having your loan application approved.
One application is all you need
Log onto our website and complete the online application form. You only need to complete one application form. We will then apply to the relevant lenders on your behalf. By using our service you can apply to multiple lenders at the same time without negatively affecting your credit score.
By applying to numerous lenders you can choose the best quick cash loan based on which lender appeals to you. If your loan application is declined, our consultant will tell you exactly why and assist you however we can in fixing the problem.
Max Loans Services
Max Loans is a loan finding service. We use our relationship with a panel of leading lenders to get you the best loan to suit your requirements.
If you are looking for a secured or unsecured loan, a home loan, or vehicle financing or you want to consolidate your debt we will be able to assist you.
Life is stressful when you need money so let us help you come up with a financial solution and help you get a better night's sleep.
Bad credit loans
When you are already drowning in debt and the bills keep piling up and you feel like you have nowhere to turn we can be your saving grace and offer you a lifeboat in your time of need.
When you have a bad credit history and your credit score is very low it can become almost impossible to get a loan.
Most lenders won't take the chance of lending you money if you have proven to be a risk in the past.
Our company is different, we know that people with a bad credit score may need the money even more desperately and we will offer you one of our flexible bad credit loans.
Applying for a loan with a bad credit score
There are several different reasons that you might not have the best credit history, in some cases we will be able to assist you with a short-term loan.
Max Loans – Bad credit loan
Loan Type

Loans bad credit

Interest Rate

6.99 – 29.95% p/a

Loan Amount

up to $50,000

Repayment

6 months to 7 years
Benefits of Max Loans
Complete loan application within 10 minutes
Approval is fast
Affordable rates
Bad credit loan calculator
Max Loans - Turn your debt problems around with debt consolidation
Max Loans treats clients like family. To us, you are not a number you are important and we will do whatever we can to help you in your time of need. We are a broker service that works to get you what you need on your behalf. There are many different loan options available both secured and unsecured loans for bad credit.
If you have a bad credit score you may be asked to put up your car or house as collateral to secure your loan. If you don't have a form of security, then we will try to assist you in another manner.
You should consider applying if:
If you only have one default to finance company and you have settled the account.
If you have no more than 2 unpaid defaults
If you have more than 2 defaults and you have settled the accounts
If you own your own car or home that can be used as security against your loan
Debt consolidation
When you have multiple accounts and unsettled bills and you don't know where else to turn, then you should consider consolidating your debt.
The way that it works is that we contact your creditors on your behalf and get a settlement amount on all your debt. We then pay off your debt so that you no longer have multiple payments to worry about.
By using this method of consolidating your loans you will no longer need to pick which bill to pay this month, while all the other, and accounts collect interest and penalty charges. By settling your account in full most creditors will give you a settlement amount this is a percentage of the money that you owe them.
Once we have paid your bills you will only need to worry about paying us back. To assist you even further we will help you design a payment plan that is easy to manage
Only having to make one payment per month will mean less stress and you can start taking back control of your finances. Don't have another sleepless night instead give us a call to see how we can help you sleep better with an unsecured loan.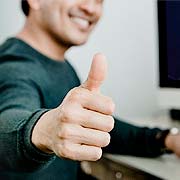 Max Loans is a trusted & reliable provider of loans bad credit
Customer Reviews & Testimonials
"
Since Max Loans are the experts in lending, they will be sure to find you the loan that you need to improve your financial prospects. I was about to give up hope on ever finding the right lender ...
Paul J
— Wellington —
Big thanks to Max Loans for saving me time, money and frustration. You guys are prompt and efficient. Your staff is absolute stars; I cannot fault a single aspect of the service that I received.
Diane M
— Queenstown —
With so many lenders out there choosing the perfect one was a hefty task. Even though my credit record was a massive hurdle for me, Max Loans helped me to get over it. Thanks for being there when...
Lloyd P
— Greymouth —
Max Loans Contact
Contact Number
E-Mail
Website
Physical Address
27/27-29 William Pickering Drive, Rosedale

Auckland

0632

New Zealand
---
Postal Address
PO Box 331565, Takapuna, 0740, New Zealand
Opening Hours
Monday

8:30 – 17:00

Tuesday

8:30 – 17:00

Wednesday

8:30 – 17:00

Thursday

8:30 – 17:00

Friday

8:30 – 17:00

Saturday

– Closed

Sunday

– Closed