Quick loans up to $30,000
Low-interest starting from 8.95%
Repayment up to 120 months
In-page navigation
---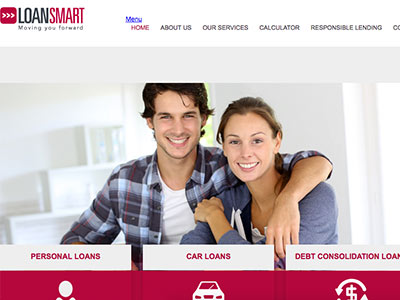 Author Loansmart. Screenshot of Loansmart website.


[Accessed April 17, 2018]
Loansmart - effective loan solutions
Taking nothing away from the effectiveness and efficiency of banks, Loansmart gathered that customers aren't very welcome when banks make them jump when they are looking for an online loan.
Although at the end of the entire process, you are probably going to get your loan approved, you go through so many steps and protocol to get for your money. To us, this seemed to inconvenience clients who just wanted a little help with money without feeling interrogated.
Quick loan payouts
When we decided to open for the shop, we were going to do what the banks did not do and so we did. We offer hassle free quick loans to clients without asking them unnecessary questions. We usually want a few documents to assess and verify the process and the money will be deposited in their bank account in a matter of a day.
We are a customer-focused enterprise
Loansmart is one of the most successful financial service providers in New Zealand and that is all thanks to our clients. They have been with us since we started our business and they continue choosing out of a number of credit providers the country has to offer.
The best way to show gratitude towards their loyalty is by providing an exceptional service that is not only professional but shows dedication as well.
Our customers are the reason we still in business and we will continue striving to give them the best personal loans - because we know that no household is the same in rank and affordability.
Loansmart Services
We have made our quick loan services to be fair and practical as possible. We will never approve a loan that is setting a client up for failure.
Due to the fact that we have gathered, how a customer's financial state is like, we will see to it that a customer doesn't apply for a loan he can't afford.
Debts are not nice. However, not being able to pay for them is even worse. We don't want to see our customers in such a predicament.
Loansmart online loan application
Clients who are interested in our credit services can apply for our short term loans that takes about 5 minutes to complete. We will ask you personal information about yourself, your employment and your salary.
All of this information is important for your loan application. Furthermore, we will compare the documents you sent to us for verification is everything is in order. If everything is clear, your loan application will be approved and your money will be deposited into your bank account within a few hours.
Depending on which bank you use and the time of the online loan application approval, your money may reflect the next business day.
Flexible borrowing alternatives for clients
Loansmart customers have the opportunity of choosing a payment plan that is suitable for them and their budget. We are not the ones that decide how the client is going to pay us, it is the client that has the final and affirmative last say.
Loansmart – Quick cash loan
Loan Type

Quick loans

Interest Rate

8.95 – 29.95% p/a

Loan Amount

up to $30,000

Repayment

6 months to 120 months
Benefits of Loansmart
Approval process is faster
Same day payout
Online application
Quick cash loan calculator
Loansmart - Customer service is our priority
Clients can borrow an amount that is suitable for their affordability scale and budget plan.
Customers should always borrow just about the amount they need and nothing more. There is no reason to put yourself through unnecessary hassle for a loan you don't need even if you are looking to consolidate your debt and think you may need the extra cash.
When you miss a payment
In the event of a customer missing a payment due to unforeseen circumstances, we require our client to inform us right away and hopefully give us a projected date of when they going to be able to pay. Failure to maintain your financial obligations will not give you a good credit report.
We always urge our customers to be certain that they will be able to keep constant payments before they apply for an online loan. The customer will be liable for extra charges for missing a payment.
Customers shouldn't wait for the day of their direct debit day to tell us we won't find any funds on their bank account. We need to know as soon as you realize that you will not have enough money to pay your upcoming credit plan.
When having financial hardship
We know that financial hardship can happen to the best of us. If you are going through a rough patch and have no means of repaying your quick cash loan, please inform us so we can see what we can do to help you get out of your situation.
Testimonials and loan reviews
One of the reasons why we have been in the financial industry for so long is due to the massive love we receive from customers.
We are always reading our word of praises and get back to the people that ask questions. We are nothing without our clients and they have proven that they are nothing without us.
Customer Reviews & Testimonials
"
I applied for the Loansmart credit plan in the morning and got a response within hours.
Mary R
— Picton —
The system that Loansmart uses to apply for credit is fast, convenient and straight forward.
Blake W
— Raglan —
Thanks to Loansmart, my interest rates are affordable and have allowed me the opportunity to always maintain an effective payment plan for my other expenses.
Zoe A
— Gore —
Loansmart Contact
Contact Number
E-Mail
Website
Physical Address
33 Broadway, Newmarket

Auckland

1023

New Zealand
---
Postal Address
P O Box 28 231, Remuera, Auckland, 1541, New Zealand
Opening Hours
Monday

08:00 – 17:00

Tuesday

08:00 – 17:00

Wednesday

08:00 – 17:00

Thursday

08:00 – 17:00

Friday

08:00 – 17:00

Saturday

Closed –

Sunday

Closed –