Home loans up to $600,000
Pre-approval and final approval
Repayment up to 10 years
In-page navigation
---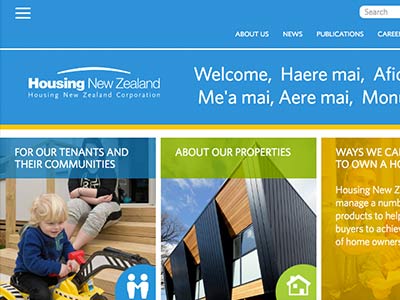 Author Housing New Zealand. Screenshot of Housing New Zealand website.


[Accessed April 17, 2018]
Housing New Zealand - Helping you find the right loan
We are a Crown agent providing housing services for individuals in need.
Our emphasis is on the efficient and effective managing of state housing as well as the occupancies of those residing in them, in order to meet the demands of the MSD's social housing register.
Expert client support
Housing New Zealand owns or manages around 63 000 properties countrywide. More than 184 000 individuals reside in our houses or flats.
It's not all about just getting a roof over people's heads, we work closely with others, ensuring that our tenants have superb access to good service support.
In addition to offering several affordable housing products, we are also a social housing provider.
Our housing products are the KiwiSaver HomeStart grant, Tenant Home Ownership, FirstHome scheme, and Welcome home loan; this makes it easier for an individual to buy their own homes!
Loan limits
The maximum amount that can be borrowed with a Welcome Home Loan will depend on the region you are thinking of buying in.
There is a house price cap on each individual region.
So the maximum loan for a specific region will be the house price cap less your 10% deposit.
Housing New Zealand Services
Our Customer Services Centre offers national coverage for all inquiries Monday to Friday. They also provide around the clock support for urgent calls.
Our qualified housing consultants offer a variety of services and can answer most queries about home loans and housing on the spot. Our Vision is to build the lives of our communities by housing Kiwis.
We are able to provide help with the following
Having a state flat or house fixed, the checking of occupant's accounts, lodging any complaints and providing the required feedback, replying to any questions, rent payments and credits as well as damages and being able to get in touch with businesses that are able to assist a tenant with any other matters they may have.
High-quality team deals with matters such as debt and Tenancy Tribunal problems.
Our partners - we work together with a wide range of government, community as well as private sector associations that offer social housing and other services to occupants. These include:
Oversees income-related rent payments for social housing occupants, provides additional social services and provides accommodation support to individuals in need of living in the private sector.
Ministry of Social Development (MSD), which oversees all submissions for social housing and assesses housing needs.
Ministry of Business and Innovation & Employment (MBIE), has the duty of building and housing policy's in New Zealand plus they provide finance to inspire the development of other social housing providers
Ministry of Health and ward health boards provide health services to our occupants.
As the major housing property owner in New Zealand, our dealings spread throughout the public and private sectors, and our operations deliver employment and commercial prospects to many individuals and companies.
Housing New Zealand – Home loan
Loan Type

Home loans

Loan Amount

up to $600,000

Repayment

1 year to 10 years
Benefits of Housing New Zealand
Projects for housing development
Flexible loans
Easy loan application
---
Housing New Zealand - We build our community
Housing New Zealand manages several financial products to assist first home buyers to attain ownership of their dream home. When you set out to buy your first home this can be both scary and exciting at the same time.
The navigating process is not always straightforward. So we have composed all the home loan products and advantages we manage in one place in order for you to have quick access in finding out which one is best suited to your needs.
Low deposit loans
You could be suitable for a low deposit loan through the Kainga Whenua loan for individuals, Maori land trusts or the Welcome Home Loan scheme. You could possibly be able to receive assistance from KiwiSaver home start grant towards a deposit for first time home buyers.
If you are by any chance a Housing New Zealand occupant, you could possibly buy the house you are currently living in, or our FirstHome properties may be what you're looking for, for all other individuals seeking to buy.
Welcome Home Loans are easier to get when buying your first home
The Welcome home loans are supported by Housing New Zealand which is offered to the lender and is designed for first-time home buyers who have the affordability on repayments on a home loan but have a bit of trouble saving up for a large deposit. You only need a 10% deposit with a Welcome Home Loan and not the 20% deposit required by banks.
Note that we don't issue loans; this is done purely through normal lenders like a selected bank, credit unions, and building societies. We underwrite the loan for lenders. You will be required to meet the criteria of the lender.
Housing New Zealand does not issue the loan. This is finalized through normal lenders such as nominated banks, building societies, and credit unions. We do the underwriting of the loan for the lender. All criteria's are to be met according to the lender's requirements
FirstHome ownership initiatives assist qualified buyers to be in a position to afford selected properties Housing New Zealand is selling throughout the republic. To assist with the deposit eligible buyer receive a grant of 10 per cent of the purchase price, capped at $20 000.
Customer Reviews & Testimonials
"
Thank you Housing New Zealand! You have made it possible for me to own my own home.
Mike H
— Auckland —
Housing New Zealand is very supportive, understanding and compassionate.
Lorraine P
— Nelson —
I commend you on your friendly consultants who are always welcoming and who serve with eagerness.
Dale F
— Timaru —
Housing New Zealand Contact
Contact Number
E-Mail
Website
Physical Address
205 Great South Road, Greenlane,

Auckland

1051

New Zealand
---
Postal Address
PO Box 2628, Wellington, 6140, New Zealand
Opening Hours
Monday

08:00 – 17:00

Tuesday

08:00 – 17:00

Wednesday

08:00 – 17:00

Thursday

08:00 – 17:00

Friday

08:00 – 17:00

Saturday

Closed –

Sunday

Closed –