Personal loans up to $50,000
Low-interest starting from 9.9%
Repayment up to 7 years
In-page navigation
---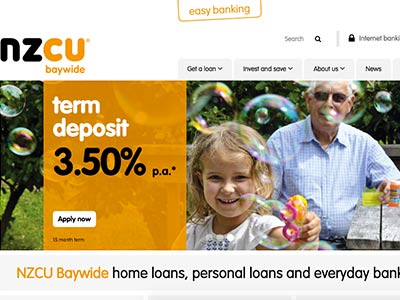 Author NZCU Baywide. Screenshot of NZCU Baywide website.


[Accessed April 17, 2018]
NZCU Baywide is not your typical NZ finance company
NZCU Baywide is a 100% Kiwi owned financial establishment, meaning that we are owned by the people – you as well as other fellow New Zealanders who are just like you.
We have an extended history of serving our Kiwis with their everyday banking wants. We were founded in 1971; NZCU Baywide has since then grown to 16 branches all through the central and lower North Island.
While we may well have grown in size our values have remained constant 'helping members attain their financial goals'.
We assist you in achieving your goals
We are not a registered bank; we are a credit union and proud of it, since you are our customer-owners serve you and not outside investors, our customers have the honour of selecting a board of directors, we educate our customers to assist them in succeeding in their goals, we aim to educate our customers in achieving their financial goals, our preferred concern is to our customer-owners.
Our funds are purely obtained from the community we serve, our loaning supports people and families who work or live in New Zealand and last but by no means least we treat you with respect and the dignity you deserve.
NZCU Baywide provides an array of products and services
Maybe you're thinking of upgrading your home, or want to take your family on a much-needed vacation or are you perhaps thinking of purchasing a new vehicle.
No matter what the reason is, applying for a personal loan could be just what you need in order to finance your next step. If you are considering a holiday - everyone warrants a travel break, and so do you!
NZCU Baywide Services
When one leads a busy life, it's important to take a break and relax. We can broaden our horizon by travelling to other countries and come into contact with different cultures and it can expose us to new possibilities.
It really doesn't matter which destination you choose, we are here to assist you in getting there.
So if you need pocket money for your big getaway and you don't want to dip into your saving we can help with our personal loans.
If you would love to visit your family overseas but can't afford the ticket. NZCU Baywide offers holiday personal finance and we can make it happen today!
We put you the client first
We focus on your story and our interest is the numbers on the paper.
We'll do everything in our power to assist you as well as saving you a penny or two!
Make contact with one of our friendly consultants today to discuss your long or short-term loan options.
Financing your next vehicle – look no further
If you are looking for a leading vehicle loan provider to provide you with the best finance deal on your next vehicle, you need to look no further!
For unlimited deals on your next car loan, you may discuss your vehicle financing with one of our expert consultants, even if you just want to upgrade your existing vehicle or purchase a new one.
We are here to help give us a call today!
NZCU Baywide – Personal loan
Loan Type

Personal loans

Interest Rate

9.9 – 28.9% p/a

Loan Amount

up to $50,000

Repayment

6 months to 7 years
Benefits of NZCU Baywide
Application 100% online
Affordable rates
Repayment terms are flexible
NZCU Baywide - Quality personal loans
Our interest rates are highly competitive on secured and unsecured car loans, no wonder so many people are opting for NZCU Baywide as their preferred vehicle loan provider.
What is a secured loan?
With a secured loan the borrower uses an existing asset, which is generally secured by a vehicle, property or an item of monetary value which will act as security on your personal finance loan.
When you offer an asset to act as security on your personal loan it often allows you to borrow a larger amount of cash, it also gives you the access to a lower interest rate than that of an unsecured personal loan.
However, in the case where the borrower is unable to repay the personal loan, you could possibly face repossession of your asset, so that the lender can recover the cost of the personal loan.
Fill out our online loan application form today to see what we can do for you. We don't only focus on how the numbers look on paperwith also listen to your story.
What is unsecured finance?
Unsecured quick cash loans are typically more expensive than that of a secured loan, but a less risky form of loan for the borrower. As previously mentioned a secured personal loan requires that you provide some sort of security to us as collateral in order to secure the loan.
Since you don't need collateral for an unsecured personal loan means the criteria's are stricter and there are several things to consider which will include your affordability on your unsecured loan, your employment, credit rating and the amount you want to borrow will be taken into consideration. Note that your interest rate is slightly higher and the amount borrowed is lower.
The same principle applies for an unsecured loan as in a secured loan; the funds can be used for almost anything, including home improvements, a much needed holiday, and your wedding or even home renovations.
Don't forget that you are also able to consider debt consolidation if you feel a bit under pressure with your debt.
Customer Reviews & Testimonials
"
I got a very competitive rate with my secured personal loan. Very happy with that.
Tracey S
— Auckland —
NZCU Baywide's staff is phenomenal! I had a consultant who went out of her way to make sure that I was satisfied throughout the process of securing my personal loan. At the drop of a hat she was ...
Aleeyah B
— Hamilton —
A simple online application form is all it took to start the process of obtaining a personal loan from NZCY Baywide. It took just a couple of minutes to complete.
Nikau A
— Lower Hutt —
NZCU Baywide Contact
Contact Number
E-Mail
Website
Physical Address
2 Margaret Street, Hutt Central

Lower Hutt

Lower Hutt Region

5010

New Zealand
---
Postal Address
PO Box 431, Hastings, 4156, New Zealand
Opening Hours
Monday

09:00 – 16:30

Tuesday

09:30 – 16:30

Wednesday

09:00 – 16:30

Thursday

09:00 – 16:30

Friday

09:00 – 16:30

Saturday

Closed –

Sunday

Closed –