Debt counselling up to $10,000
Low-interest starting from 6.99%
Repayment up to 3 years
In-page navigation
---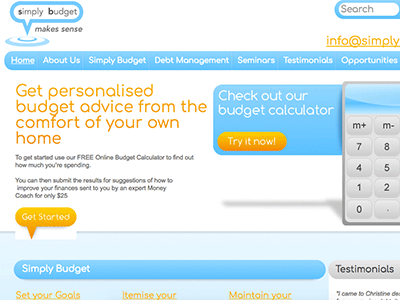 Author Simply Budget. Screenshot of Simply Budget website.


[Accessed April 17, 2018]
Simply Budget - Helping Kiwi's become debt free
We were established in 2009 by Christine Liggins. Christine relocated to New Zealand from the UK in 2004 with her hubby, Martin. Having a desire for solving money matters, she got involved with the local budget service where she became proficient as a budget adviser.
As Christine's passion and experience grew, she began dealing with complex cases in 2008 and then in 2009 she gave up her full-time Logistics Manager position so that she could concentrate on her money coaching.
Debt management
Should you be feeling stressed about keeping up with your debt repayments you need not feel despaired because there are things you can do, one of them is not to ignore the signs and consider debt counselling!
Talk to your creditors, let them know that you are struggling to make ends meet. Perhaps they will consider reducing your repayments in order to manage them better.
Summary Instalment Order, No Assets Procedure (NAP)
Should you consider any of the above options, then perhaps you could submit your monthly budget to a money coach and we will see if we can assist you. Also if you are not from New Zealand and you feel that you need help to manage or consolidate your debt you are welcome to contact us.
Summary Instalment Order
Apply for a Summary Instalment Order (SIO) if you by any chance have unsecured Debt under the amount of $40 000 and you feel that you are not keeping up with your current contractual repayments.
It is necessary for you to have a surplus in your budget and be in a position to make payments in order to cover all or at least part of your debt. A supervisor will need to be nominated. Allow one of our many coaches to take a look at your worksheet and advise you accordingly.
Simply Budget Services
One of our supervisors will go through your application and keep in touch with your creditors. We will ensure that the terms of the order are being followed and you will need to keep your supervisor updated on any changes regarding your financial circumstances.
A Creditors Proposal is a formal agreement sealed by the high court, where a payment plan is accepted by all creditors over an agreed period of time as a full and final settlement of debts including things like credit card debt, payday loans, personal loans and retail accounts.
Debt solutions
There is no limit on the amount of debt you have. Unsecured debt including personal loans and credit card debts are included and some secured debt could possibly be included, as long as you are able to make repayments.
Note that you will need a trustee as well a solicitor for this. The fees for the solicitor, court, and trustee are payable by yourself.
No Asset Procedure
Is your debt less than $40 000 and you have no assets that you are able to sell; you have no means of making any sort of payment towards your debt and are consider debt counselling?
Then you may be eligible for a No Asset Procedure, which means it's a mini bankruptcy.
Bankruptcy is this the last resort
Should the other options not be applicable then perhaps you should consider bankruptcy.
But please make sure that you think very hard and do some research on all the options including debt consolidation and counselling before you apply for this procedure.
There are many less drastic solution available and one should explore all of these options before settling on bankruptcy which will leave you in a very restrictive and undesirable position
Simply Budget – Debt counsellor
Loan Type

Debt counselling

Interest Rate

from 6.99%

Loan Amount

up to $10,000

Repayment

3 years
Benefits of Simply Budget
Lower interest rates
Easy loan application
Affordable loans
---
Some wise advice from Simply Budget
For the sake of your future, you need to plan and set your goals according to your budget. For instance if you like to go on a holiday or purchase a new car or perhaps you want extra money for Christmas.
In such cases it is ideal to plan ahead and set money aside for these goals rather than opt for personal or short-term loans without any planning
Set realistic goals
Set smart goals to make them specific, achievable, measurable, realistic and set a time limit for you. Goals need to be specific like how serious are you about setting a goal for yourself and you need to set an amount.
It's important that you measure your goal and time limit (how far do you still need to go) maybe you're halfway there or are you on time?
It certainly needs to be achievable in other word saving $1 000 in three months sound more achievable than trying to save $10 000 in a period of three months. Check your worksheet and see if the goal you are setting for yourself can be achieved in time.
We urge you to set your goals, itemise your spending, manage your budget, and plan for the future, live within your means because you are in control!
Should you need advice on debt counselling or you have any questions don't hesitate to contact Simply Budget. We will gladly assist you in any way possible!!!
Customer Reviews & Testimonials
"
With the use of their calculator, we were able to come up with a sum that I would need to pay every month for my debt to be taken care of.
Sarah J
— Queenstown —
They don't just help you and then leave you alone to fight the rest of your battles they stay with you and monitor you and help you to get further.
David P
— Wellington —
They have taught me to make sure when I am buying or dealing with a loan that I know all the ins and outs when It came to my car when I bought it I did not know about a balloon payment at the end...
Jason J
— Auckland —
Simply Budget Contact
Contact Number
E-Mail
Website
Physical Address
---
Postal Address
PO Box 31945, Milford, 0741, New Zealand