Reduction of interest
Extending repayment terms
Repayment up to 3 years
In-page navigation
---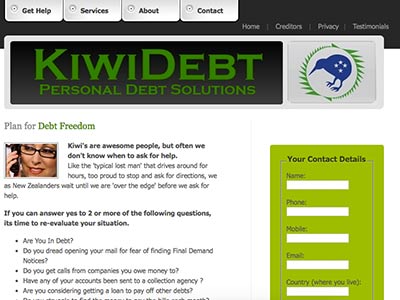 Author Kiwi Debt. Screenshot of Kiwi Debt website.


[Accessed April 17, 2018]
KiwiDebt - personal debt management
Kiwidebt is 100% New Zealand owned and operated, we were established in Auckland in January 2008 by a family who saw the effects that the global financial crises had on New Zealand families.
Today we continue to offer our debt counselling services as we had in the past, we've assisted many individuals to get their finances back on track, by working closely with them and their creditors for the reduction of repayments to alleviate financial stress.
We are privately owned
We are a privately owned establishment, meaning we are not controlled by market forces or financial markets.
It's important to KiwiDebt that New Zealand's economy is successful. As there are leading Western countries currently experiencing financial meltdowns and recessions.
Tailor-made solutions
We work exclusively for our valued customers, whilst we set up financial repayment strategies that are tailored to your needs.
Having a good relationship with our providers puts us in a good position to negotiate your personal loan repayments by means of withholding interest charges through setting up a financial agreement in alliance with you.
The negotiations and setting up agreements are done on the foundation that you as our customer will ensure to make regular repayments.
Kiwi Debt Services
Work with us and discover the financial freedom gained as we reduce your debt with various debt counselling strategies. KiwiDebt would love to hear from you, allow us to take away that financial pressure so that you can get on with the life you deserve.
Kiwidebt is by no means debt collectors, we are Debt Managers, Debt Settlers, and Debt Mediators, and we will assist with you as much as we possibly can with debt related issues and the inability to meet your obligations under the Credit Contracts and Consumer Finance Act.
Debt management
We are not Financial Advisors in relation to insurance or investments or any other loan or credit card associated products.
KiwiDebt is not a loan provider; we only act as intercessors with corporations in order to decrease your outstanding accounts of debt management and or insolvency processes.
Plan for Creditors
Our system doesn't only have to benefit the individual who is in debt, it also benefits people who have debtors who are having financial difficulties.
Should you be a creditor, and you deal with the public, make contact with us and learn about 'first choice' to your debtors, before you get other companies involved which may add further costs to your customers, who are more likely overcommitted already.
Kiwi Debt – Debt counsellor
Loan Type

Debt counselling

Repayment

3 years
Benefits of Kiwi Debt
Debt settlement
Debt management
Debt support
---
Kiwi Debt - Let us help you reduce your debt
The majority of cases where people have got themselves into debt aren't because they are reckless or careless, quite often it's a case where circumstances have changed and the unexpected happens.
Perhaps you have been made redundant or you need to split finances due to divorce or you become ill. There are several life-changing events. In most cases, people will only contact us once they have tried to keep up their home loan and credit card repayments for too long, but then find themselves struggling to keep their heads above water.
Debt solutions
It becomes very stressful and you get to a point where you realize that you're drowning and need to take drastic steps or face the chances of never getting out of the deep water as far as your financial demands go from creditors.
And because you still have the day to day expenses, it becomes more costly and so you make more debt by taking out more short-term loans to stay afloat. The repayments you are making are not really reducing the balance because of the interest and charges that are added on a daily basis.
The Kiwidebt debt management plan could be life-changing because it will put you back in control of your finances and you won't need to borrow more money (it's a proven fact that this gets you into more trouble) think about it, any interest and charges will be frozen which means your debt could be settled quickly and you only have one repayment worry about.
Plan of action for debt freedom
The reduction and or freezing of interest;
Rescheduling repayment terms;
Having part of the debt written off;
Even though creditors are not obliged by law to abide by any of the above, a lot of creditors are optimistic about the work KiwiDebt is doing to help families that are in financial difficulty.
The proposal is based on affordability and acceptance
Generally, creditors are asked to vote for the proposal, however, they will need a majority in order to pass at a creditors meeting. The verdict of the vote is given in the high court for consideration and ascent, though it is not done through the high court, the arrangement is directly with the creditors.
The formal proposal and application is sent to the creditors and the creditors will be required to once again place a vote. The debt counselling arrangement does, however, need to 100% acceptance by the creditor in order to be passed and accepted. Note the KiwiDebt does not do consolidation of debt, though we can discuss debt consolidation and bankruptcy with you.
Give us a call or email us, one of our friendly team members will guide you in the right direction.
Customer Reviews & Testimonials
"
We found ourselves battling to pay our debt but then we found Kiwi and they have helped us to pay off our debt.
Jessica C
— Christchurch —
If you need a company that will help you pay your debts off and they will help you to understand your debt management then this is the company for you.
Joan E
— Wellington —
I have never felt so stress-free when I needed help managing my debts all I Did was call Kiwi and they got to work on my debt and now I can sleep at night.
John B
— Queenstown —
Kiwi Debt Contact
Contact Number
E-Mail
Website
Physical Address
89 McKenzie Ave

Whangaparaoa

Auckland Region

0943

New Zealand
---
Postal Address
PO Box 906, Whangaparaoa, 0943, New Zealand
Opening Hours
Monday

10:00 – 18:00

Tuesday

10:00 – 18:00

Wednesday

10:00 – 18:00

Thursday

10:00 – 18:00

Friday

10:00 – 16:30

Saturday

– Closed

Sunday

– Closed