Loans bad credit up to $1,000
Repayment up to 30 days
In-page navigation
---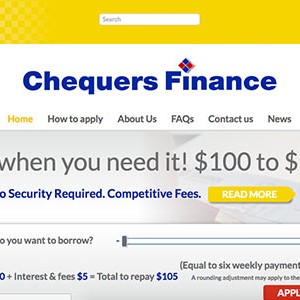 Author Chequers Finance. Screenshot of Chequers Finance website.


[Accessed July 3, 2019]
Chequers Finance - Loans up to $1,000
Chequers Finance has been a leading loan provider that New Zealand citizens turn to in their time of need. We offer payday loans between $100 and up to $1,000 to help you out when you need some extra money.
Our loans are flexible and designed to suit your needs. To apply for a personal loan, log onto our website and complete the application form with your personal details. Your loan application can be approved in as little as 3 hours and once your application has been approved the money will be transferred into your account.
We are there to serve you
Our consultants are there to assist you every step of the way and make sure that you are happy. The repayment terms for our bad credit loans are up to 6 weeks this prevents you from paying unnecessary fees and being stuck in a loan term loan agreement. We do not perform a credit check and you do not need to provide any form of security against your loan.
What makes us the loan provider for you?
There are many different lenders offering loans and special deals. So what makes us different? And why should you choose us as your loan provider?
When you deal with us you will be talking to a real person that can help you without causing you unnecessary stress or making you leave messages with computer automated systems.
We are a responsible lender and aim to provide you with the best service while getting you the best instant loans available.
Chequers Finance Services
A personal loan can come in handy when you need to pay for an unexpected expense or you need extra money for a weekend away or to take advantage of a sale.
No matter why you need the money we know that you need it quickly. We offer the same day approval and same day payout to get you the money that you need as quickly as possible.
Short term personal loans
Our short-term loans allow the clients to borrow between $100 and $1,000 and gives them up to 6 weeks to repay the loan.
Short term loans were designed so that you can get the cash you need without being trapped in a loan agreement for a very long period of time. With a short-term loan, you can quickly pay off the loan and not be trapped with unnecessary debt.
No risk for you
Our bad credit loans are unsecured loans that mean that there is no risk to you no matter if you have good or bad credit.
Most lenders require clients with bad credit to secure their loan with an item of collateral. If they don't repay the loan the lender will recover their money by taking the item as payment.
We don't require you to secure your loan with collateral so there is no risk of you losing your collateral.
We offer a very competitive interest rate with easy repayment terms and up to 6 weeks to repay your loan.
Chequers Finance – Bad credit loan
Loan Type

Loans bad credit

Loan Amount

up to $1,000

Repayment

7 days to 30 days
Benefits of Chequers Finance
Bad credit loan calculator
Chequers Finance - Improve your credit score
A short-term loan is more expensive and can end up costing you a lot more than you bargained for if you don't comply with the loan agreement.
These blacklisted loans are there to provide a temporary fix for your financial problems and should not be relied on as a permanent solution. Before you enter into a short-term loan agreement you should make sure that you will be able to easily pay back the loan amount by drawing up a detailed budget that lists your income and expenses.
When we determine your affordability we don't look at your credit report and your history of payments instead we look at your current financial status and whether or not you have a stable income.
Use your loan to improve your credit score
Your credit report will positively affect your credit score if you make your payments on time and repay your loan without any problems. When you apply for a loan with us the next time and you have proven that you can pay your bills on time, then you could qualify to borrow larger amounts of money in the future.
What happened if I can't repay the loan?
If you are having trouble making payments on your bad credit loan, then you should let us know as soon as possible so that we can help you. We can offer assistance by lowering your monthly instalment fee or giving you longer to repay the loan.
If you don't let us know when the direct debit can't be cancelled and if it is dishonored, then you may be charged additional penalties and late charges. You will be charged administration fees and a notice fee for each letter of a reminder that we send you.
If you are irresponsible with your payments your loan could end up costing you more than you intended and could end up making your credit score even worse than previously.
Make sure that you always pay your loan on time and if you have problems notify us immediately so that we can find a mutual solution.
Customer Reviews & Testimonials
"
At Chequers they will do all that is in their power to ensure that you receive the loan that you want with all the bells and whistles. When I applied for my loan they spoke with me to find out ex...
Joan B
— Dunedin —
When you deal with Chequers you are in contact with a real human being – no computers or automated messages. This means that if you have a question then they can clear that up for you immediately...
Taryn C
— Wellington —
Loans are approved on the same day that you send out your application. There is barely any waiting involved! Waiting for the answer from the bank can be a really stressful situation which is why ...
Harry H
— Hamilton —
Chequers Finance Contact
Contact Number
E-Mail
Website
Physical Address
4/111 Bentley Ave

Glenfield

Auckland

0629

New Zealand
---
Postal Address
PO Box 19140, Hamilton, 3204, New Zealand, Hamilton, 3204, New Zealand
Opening Hours
Monday

09:00 – 17:00

Tuesday

09:00 – 17:00

Wednesday

09:00 – 17:00

Thursday

09:00 – 17:00

Friday

09:00 – 17:00

Saturday

– Closed

Sunday

– Closed